Blackout, Dinner & Surprise!
My electricity current has gone completely haywire these couple of days.
In fact, just as I was about to start this post (early in the evening, before dinner), the power went out.
And it's fine if your power goes out for a while and then comes back on for good.
Heck, my power goes out got 10 minutes. Then, we'd go to switch it on. In the next 5 minutes, off again. Then, on. Off.
ON.
OFF!!
GARGH.
I felt so medieval without electricity, honest. I completely relied on my handy handphone for light. Not bad,
Sony Ericsson's flash
is quite power.
The worst bit about the on-off thing was that it always seemed to catch me when I'm using the computer!! And it also happens about late evening which is normally the time where I use the most electricity.
The computer
to surf while I wait for my hair to dry.
The radio
which I blast when I'm in the shower.
My heater
; I can't shower without warm water.
The air-condition. The fan.
Sorry, I like to use both during this time... I should learn to save electricity, I know.
And
the lights
, of course.
My hairdryer
. I know I mentioned I surf the net to wait for my hair to dry. Which is true. I never dry my hair immediately after coming out of the shower. I feel it's quite damaging to the hair. So I let it dry naturally until it's half damp before I blow-dry it.
I bet you're thinking it's because all these stuff were switched on which caused the power cut?
WRONGO.
I didn't use
ANYTHING
of that except the computer (it's not the computer either because the first ever power cut was when I was using nothing but a fan... I was taking a nap) today.
In fact, yesterday and today, the power cuts happened only
AFTER
my oldest sister,
Lena
, came home and started switching on all
HER
electric appliances in her room.
I'm guessing it's her. She keeps denying it but... Well, I'm just blaming her because she made me lose a bit of the work I was doing when the power cut just now.
ANYWAY
, what I did during the blackout yesterday?
It was out for so many times and at a time, quite a long while too! Plus, it was the late evening (7ish) so it was mighty dark!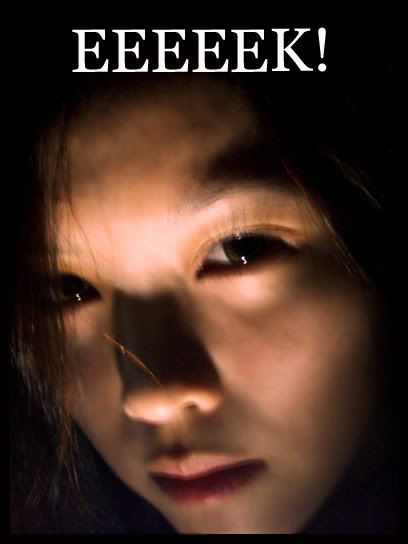 Using my
W810i
flash.
Scaaaa-reh.

I took more pictures but I think I might freak you out cause I looked as though I had no body. Just a head and the lightings made me look awful
CORPSE-LIKE.
I did other stuff to entertain myself as well!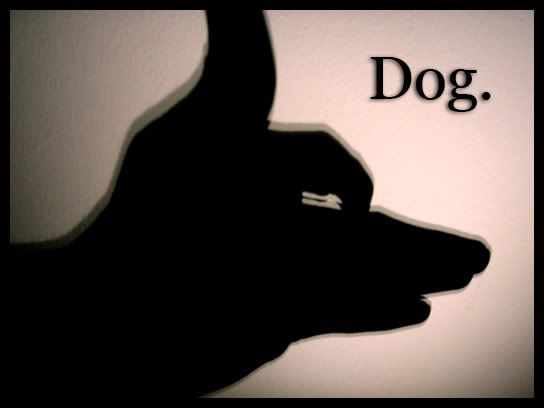 Hahahaha. Not bad, whaaaattt.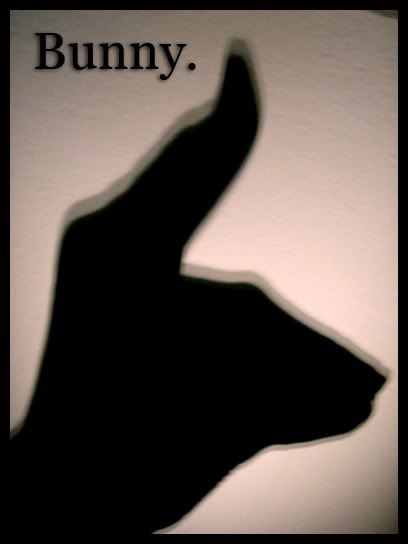 Actually, it looks more like a Kangaroo. Whichever!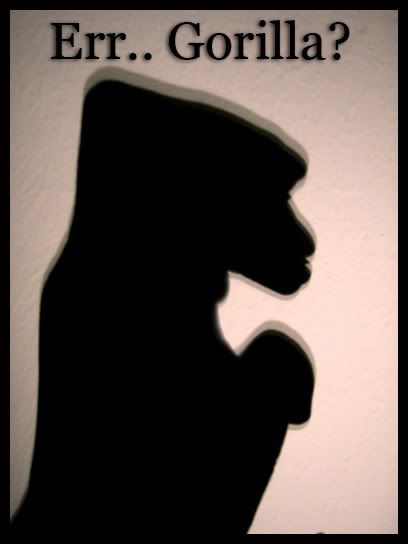 Hahahah. I have no clue what I'm doing actually. Simply tembak some shape. Looks the closest to a Gorilla, I think!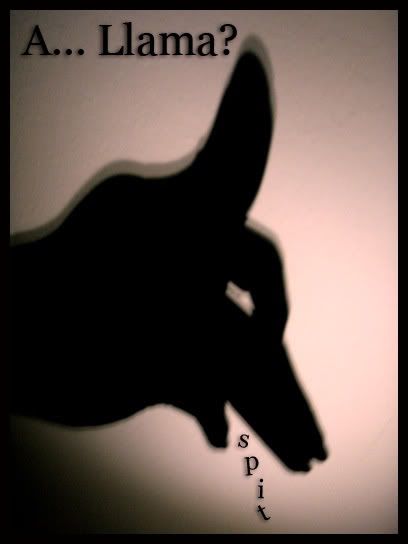 LOL.
Running out of ideas.
A tapir with long legs? A cow with thick lips? A really skinny hippo? I really couldn't think of anything. This looks like a whole new species altogether.
SCAAAARRRRYYY LEHHH!!
I was
BORED
okayyyy. Excuse me.
Anyway, I was supposed to go out for dinner with
Andrew
and more often than not, he's late.
Since I couldn't surf the net (afraid of the power cut) or read a book (no book to read nowadays.. haven't gotten any good recommendations) or watch TV (afraid of the power cut thing again) or actually do something constructive....
I decided to snap some camwhore pics. Haven't done it in a while so excused me if I over-indulged myself.
My Papa just installed for me a new full-length mirror. A girl's gotta have these things!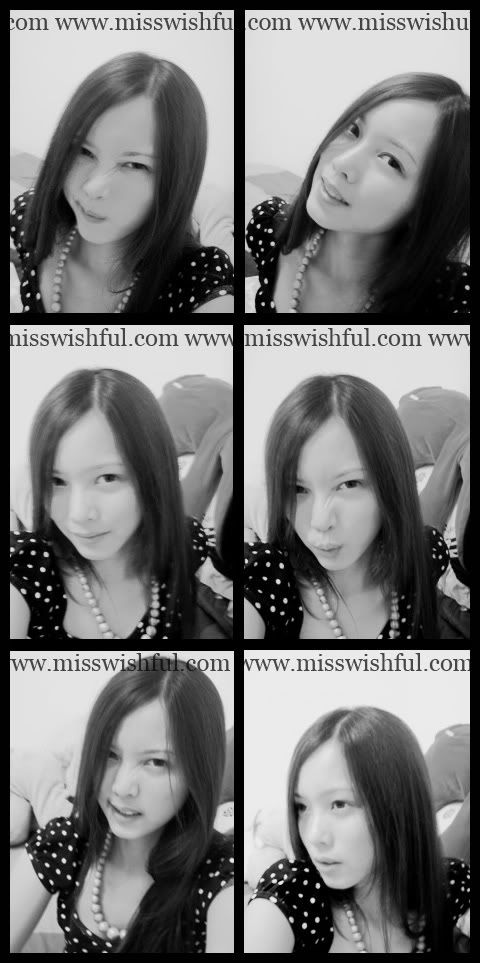 Okay, I confess. I didn't put any make-up and therefore, did not cover the flaws (dark circles etc) so I made the pics into black and white. Minimize flaws!
Pictures just tend to look better like that. Just like how you wear a cap or wear shades. You just
TEND
to look better. Same theory here!
So want desperately to camwhore but having a bad face day?
GO BLACK AND WHITE!
Haha.
OMG
. Sounds like a bimbo talking.
I'M NOT ONE OKAY.
I KEEP SAYING IT ONLY BECAUSE IT'S TRUE.
I'm not a superficial, materialistic, shallow person. Well, that's what the dictionary defined "bimbo" as and I know I'm not like that; I don't care what you think or say!
Anyyyywaaaayyyy, Andrew finally picked me up and off we were to
1u
for dinner.
I felt like
Ipoh Hor Fun
so off to...
Dinner @ Old Town Kopitiam, 1utama (4th October, 2007)

Our food:
Andrew's order.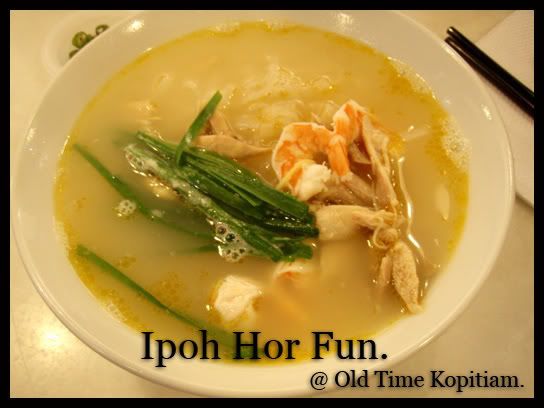 Mmmm. I like it a lot. Yummy.
Oh, Andrew did the sweetest thing that day.
I was going on and on to him about how I wanted this gold heart-shaped necklace from
Padini Concept Store
but didn't have the time to go to
1u
just to buy it.
So I asked whether he could get it for me when he was going to buy
Resident Evil: Extinction movie tickets
(2nd October) for Thursday night (4th October).
He said he will. But he called me up (2nd October)) and said it was sold out!!
I was so, so disappointed because I really liked it. It's really pretty and I always wanted to have that sort of necklace! I really believed him because there was only one left the last time (a week ago) I saw it.
Then, before we reached 1u on this night (4th October), as we were about to enter the parking lot, he asked me to open the passenger mirror thingy to look for his
Touch n Go
.

I opened it and I got the shock of my life when the

gold necklace

dropped out!
SO HAPPPPYYYY :)))
It's little things like this that fills my heart with tremendous joy. It may seem petty to read about but to me, it was so incredibly sweet of him to surprise me!
I don't get easily surprised so, yeah.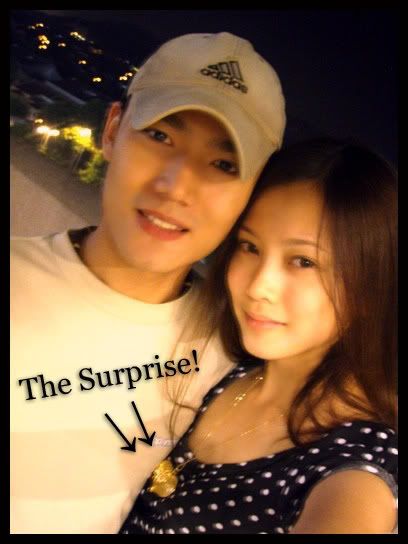 Spank you very much, Drewy!
It's not
Tiffany & Co.
or any sort of expensive/designer thing... but really, isn't it the thought that counts the most?
Besides, I'm not the sort that would die for an
LV bag
or a pair or
Prada heels
. I may like nice and pretty things but due to my cheapskate-ness, I tend to overlook the branded goods.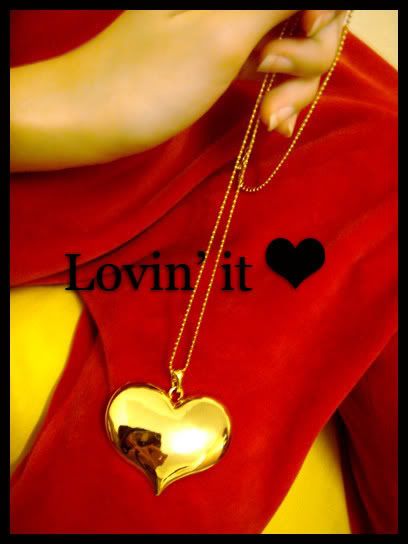 So pretty!
Don't care if you think it's ugly.
I LIKE IT AND THAT'S WHAT MATTERS!
I've no idea why I like it so much also, to be honest...