Ratatouille & Movie Reviews
Saturday, September 29, 2007
No, not Ratatouille the movie.
No, not the dish either.
This is the REAL DEAL.
It's some violent shite going on but... well, I guess it's only right for me to blab to the world what a violent, sadistic boyfriend I have.
A few days back,
Andrew
and his brother,
Phil
, booby-trapped a rat using a
ZINGER
burger.
Andrew called it, "
It's last supper
." He even claimed the rat had it good having a Zinger as it's last meal.
I know rats are gross and disgusting, but I'm still unsure if they deserve such cruel torture-before-death.
Looking at it in a
humanitarian perspective
, it seems incredibly malicious to do such a thing to a living creature despite the fact that rats are dirty, slimy, hideous and are common thieves. But I mean, they
ARE
still living things and it
IS
their survival instincts to live in sewers and live off people's garbage, right?
But looking at it in a, I'd say a
normal
(for some people not saying all, eg: Andrew)
point of view
, they're just pests that deserve to die. Plus, one female rat can produce
76.3
young in just
ONE YEAR
. Another source says if you put
ONE
female and
ONE
male rat (very fertile) and leave them in an ideal environment, those rats may produce up to...
200, 000
other rats.
One year. One couple.
200, 000

RATS.
So, after having this all in your knowledge, let's see what you think of my darling boyfriend's show of torture towards the rat.
Here's a short
4 second video
of the rat... "
Just to show that it's alive and caught
," Andrew said.
I was actually going to post up the video of Andrew and Phil
TORCHING
the rat with a lighter and a flammable mint spray but guess what....
YOUTUBE TOOK IT DOWN BECAUSE IT HAD "INAPPROPRIATE CONTENT"!!!
It's
THAT
violent!! He told me all the rat's whiskers were burnt off and the smell of burning rat skin was horrendous but slightly diminished by the mint spray.
And still,
THE RAT DID NOT DIE.
So they went and boiled water.
You're thinking, "
Oh, that's normal. Everyone boils water and pours it into a tong where the rat is trapped in and covers the tong so they won't hear the squirms of the rat.
"
Well, watch this:
Their conversation a bit the violent. Please excuse them.
Andrew told me he poured the boiling water directly aiming for the rat's head. The clip is pretty blur (thankfully) but at one point, I think you can hear the poor rat squealing in pain! And then it staggers slightly, and soon after, it's misery is lifted.
And here's the...
end result
:
.
.
.
.
.
.
.
.
.
.
WARNING: FOLLOWING IMAGE MAY CAUSE SERIOUS WAVE OF NAUSEA AND/OR VIOLENT SPASMS.
.
.
.
.
.
.
.
.
.
.
.
NOTE: I'M SERIOUS. DO NOT CONTINUE SCROLLING IF YOU DO NOT WANT TO SEE ANDREW'S VERSION OF RATATOUILLE.
.
.
.
.
.
.
.
.
.
.
.
DON'T SAY I DIDN'T WARN YOU. AND DON'T GO GIVING ME NONSENSE LIKE, "OMG. HOW CAN YOU POST SUCH A THING! IT'S HORRIBLE...

YOU'RE

HORRIBLE!"
IT IS FOR VIEWERS WHO ARE... SADISTIC OR JUST TREMENDOUSLY CURIOUS.
.
.
.
.
.
.
.
.
.
.
.
I feel so bad for posting this up... yet, I hate rats!
I FEAR I HAVE MIXED FEELINGS.
Oh, well. As long as I wasn't the one who killed it... (very selfish thought, I know)...


HERE IT IS:
Check out the razors on that thing!! And.. is it a
FEMALE
???
Oh, well. That's one less rat to worry about.
Please don't get defensive on me over
ONE
rat, okay? If Andrew does this for a living, then maybe you can get as defensive as you want.
*I just want to clarify that I am more than aware that everyone has their opinions... but no one is asking you to necessarily say them out all the time. Unless you desperately want to annoy people or get a slap on the face or something.
-------------------------------------------------------------------------------------
Movie Reviews
Fracture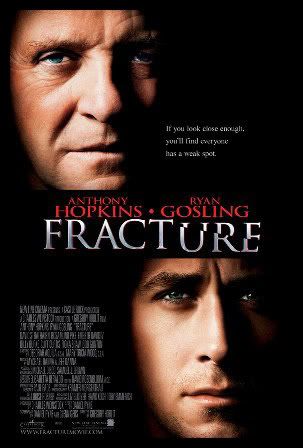 With
Anthony Hopkins
starring and heartthrob
Ryan Gosling
, I expected
SO MUCH
MORE
. It's not nearly exciting or twisted enough. I'm not saying it's predictable... but the twist is just... so simple! Far too simple. A common thief could've planned that out. A good detective would've figured it out. But based on the movie, because emotions were involved, the detective didn't perform, I guess.
However, it's really entertaining to watch
Anthony Hopkins
because he is indeed a real performer. And
Ryan Gosling
is droolsville but all in all...
MEDIOCRE.
Ratings:
Brilliant! A Must-See!
Exceed Expectations. Two Thumbs Up!
Satisfactory. Enjoyable.
Mediocre. Very Average.
Bored to Tears. Almost Slept.
Functionally Retarded. Left Cinema.


Hairspray
Almost an
All-Star
cast!
Michelle Pfeiffer
is absolutely sizzling and incredibly snide in the movie.
John Travolta
is very entertaining and very fat too.
James Marsden
(Cyclops) is charming as ever and who knew he could sing?! Plus, he's gonna be starring in
The Enchanted
which I so absolutely am anticipating that movie.
Zach Efron
is 10 times hotter and 10 times less gay in this movie than in
High School Musical
.
Amanda Bynes
is funny and perky as usual.
Brittany Snow
shows her bitchy and bimbo self here.
Queen Latifah
has a blonde head which contrasts not so well with her dark skin, but hey, she can sing!
Overall, it's a good movie. Fun, cheerful and enjoyable to watch.
Andrew LOVED it.
He kept wanting to watch it again.
HIM
. Not me.
Ratings:
Brilliant! A Must-See!
Exceed Expectations. Two Thumbs Up!
Satisfactory. Enjoyable.
Mediocre. Very Average.
Bored to Tears. Almost Slept.
Functionally Retarded. Left Cinema.
I Now Pronounce You... Chuck & Larry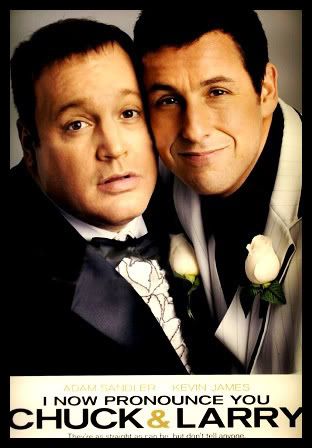 HAHAHAHA!!!
Even looking at their pic makes me laugh.
It's really good. I thought it was really funny. Slight conflict towards religion (mostly Christianity) hence the phrase from the Christians during their opposition with the gays, "
God made Adam and Eve, not Adam and STEVE!
"
Haha. I thought that was funny. The whole movie's funny! Gotta go watch it. And if you're keen in seeing
Jess Biel's
boobies get you-know-what by
Adam Sandler
, you need the
DVD.
They cut the whole thing out.
Ratings:
Brilliant! A Must-See!
Exceed Expectations. Two Thumbs Up!
Satisfactory. Enjoyable.
Mediocre. Very Average.
Bored to Tears. Almost Slept.
Functionally Retarded. Left Cinema.