Impromptu
Wednesday, March 28, 2007
I am not supposed to be blogging right now. I'm supposed to be finishing up studying for accounts! But well, I guess I could take a little break, right? :) Did I mention I just started studying less than an hour ago? Who cares, eh? Even that my test is tomorrow and all.
Yeah, blogging is more important. Definitely.
Is it me or has the weather gone extremely, extremely humid lately? My computer is in the upstairs hall where the aircond has been transfered to my room (my room's aircond died somewhere last year) so now I've only got a fan which only helps fan the rising heat back to the bottom where I am. It's so bloody stuffy in here! I wish I had my laptop back (it crashed last month) so I can blog in my freezing room. It's ice cold in there which makes being out here a total torture.
Having a test tomorrow, should be studying now, swarming in heat... What am I doing out here blogging?
That's right. I'm doing this for those who are bored to death and need some material to read regardless of how meaningless or nonsensical my rambling may be. Well, I'll try to entertain you the best I can, okay?
So these past few days I've been a boring person. By boring I mean that I didn't do anything like; attend happening parties/events or had any performances etc. Nope, nothing spectacular. It doesn't entirely mean I'm dead bored or anything because I still do normal, routine things (which can be fun too) like going to college, watching TV, hanging out with the girls, going for dance practices (just joined the dance club at college... I did mention it, right?), watching DVD's with Drew, following him to futsal, practicing the piano, reading books, practicing golf, eating like a pig and sleeping like one too, blogging... Yeah, the regular stuff.
Am I boring you?
Yes, I am.
Pictures maybe?
Coming right up.
Here's what I saw when I went to the loo during one of

Andrew

's futsal games.
Read this first.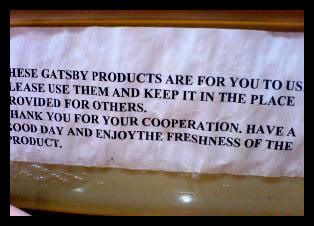 Note:

Gatsby products

AND

keep it in place provided for other AND

enjoy the freshness of the product.
You must be thinking, "What

Gatsby products

can be

shared

and is

fresh

in a futsal court's toilet?"
Voila. Yummy.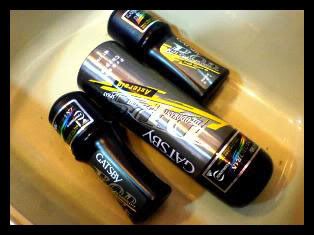 Sharing is caring.
DISGUSTO MANIFESTO!
Okay, so maybe the spray deodorant ain't
SO
bad, but the
ROLL-ONS
?
Yuckity-yuck-yuck!
The idea just makes me wanna... barf.
I remember
Giles
saying to
Andrew
, "
Give you RM100 you would put anot
?"
Andrew said only with a thousand. He's a smart boy. And a clean one for that matter. But he had to add this, "
You give me a thousand I'd even lick it
."
WHAT THE?!
Not so clean anymore. If he ever
DID
lick it, he can dream of ever getting his mouth near mine!
Okay, okay. Let's move on.
While waiting for Andrew to call me (he takes
MINIMUM
half an hour to bathe... which means possibly
one hour
at times), I went browsing through my handphone and discovered some pictures I think is worth sharing!
Who do you think deserves the
BEST-CHIMP-LOOK-A-LIKE
award? Best of two only.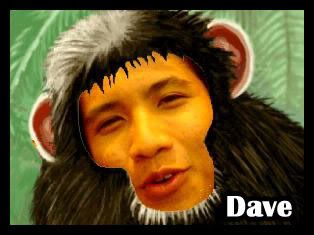 Hahahahaha. Not bad, eh? Hope he's having fun in
NS
.
Contestant #2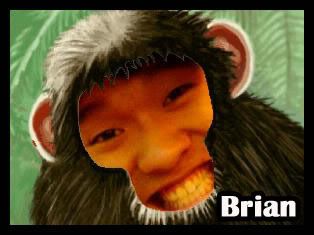 HAHAHAHAHHA. ROFL.
This is picture is so funnay! I can't stop laughing,
GOSH
!
Phew. All right.
So, who do
YOU
think deserves the award?
Personally, I'd give
Brian
because he looks so damn funny in the picture. But
Dave
did a pretty good immitation, don't cha think?
Hmmm. Not enough pictures? Okay, fine. Here are
MORE
pictures.
People who used my phone to camwhore in the past... since I got my new
Sony Ericsson phone
:
No surprise there.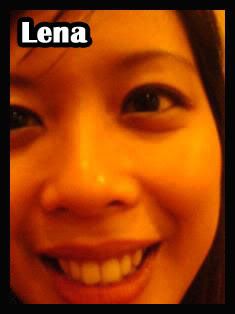 Bit too close for comfort. I almost didn't recognize her. It's my sister by the way.
Andrew
and
Jason
LOVES using this pose. The squinted eyes and puckered lips thing.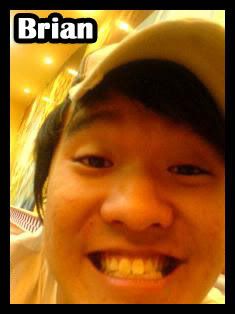 There

Brian

goes again! Hahahahhahahaha. Even looking at his normal picture makes me laugh!
Before I go, here's one more picture I found extremely hilarious that I've never noticed before until I loaded it up into my com.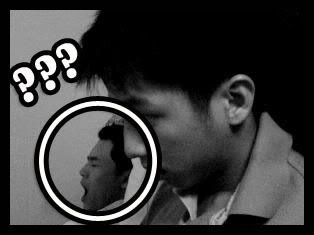 LOL.
Don't think
dirtttay
! He's really just yawning....
There you go. Hope you think you've killed your time in a productive way.
Time to hit the books. Wheee!
Oh, wait. One more thing. I just went to visit
Brian's blog
and
GG'ed
(his little prankster project with his friends) site is up! Hahhahaha. It's very funny! Go check it out!