Dinner @ Yuen Steamboat
That's right.
We heart the place so, so,
SO
much that we're back for the
2, 243, 534, 672
time!
I mean, how can you fight a buffet seafood steamboat with free flow of psycholicious
chicken wings
and unlimited
ICECREAM
(which isn't too bad either!) and you only have to pay
RM20++??
CANNOT.
And I've blogged about this place 2 times before (3rd time running) so those of you who really haven't tried that place and have read about me blogging it so many times....
Oh,
WELL!!
You're
SO
missing out on one of the
Wonders of Malaysia
(referring to the chicken wings).
Yep. For
ONCE
, I am actually complimenting something about this country.
Well, the only good thing Malaysia have is good food and cheap... erm, people.
Okay, okay, I know there are other good things. But there's just nothing coming into my mind right now.
Plus, the cons definitely overthrow the pros of living in this...... country.
Took me a lot not to come up with insults accompanying that word.
Moving along...
Dinner @ Yuen Steamboat (3rd August, 2007)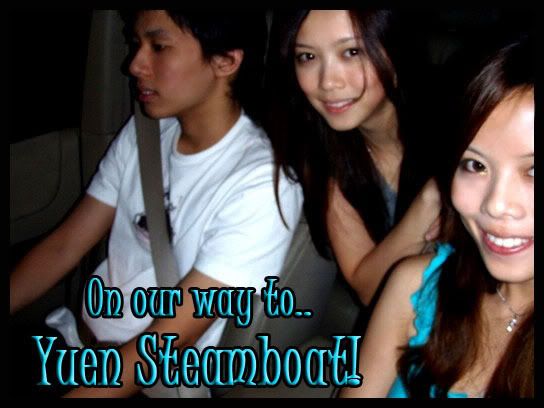 Ernest picked Jean and Me up!
Those who came: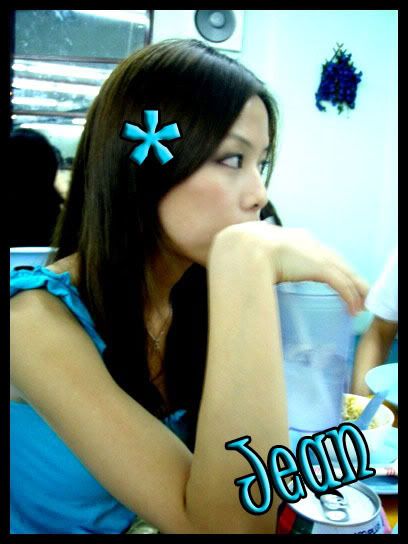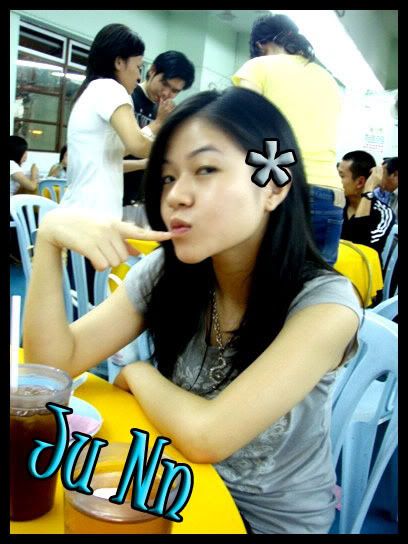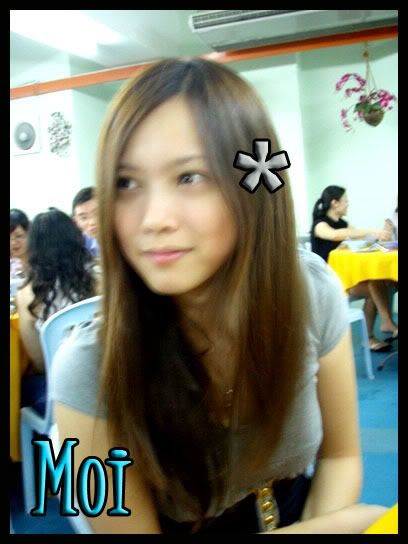 I know I look retarded. It's the only decent picture of me I could find. Ju kept taking bad angles of me! Tsk!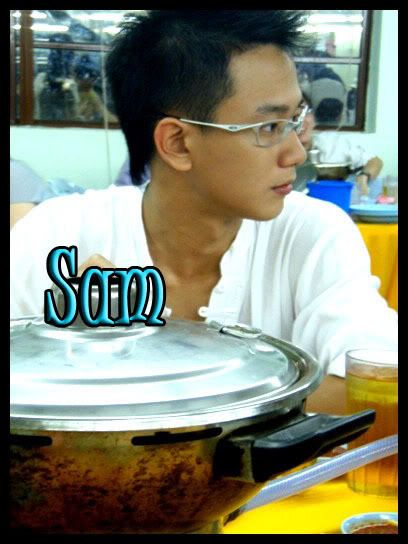 I swear he was posing for me.
Haha! That's the way maarrr. Don't shy shy all.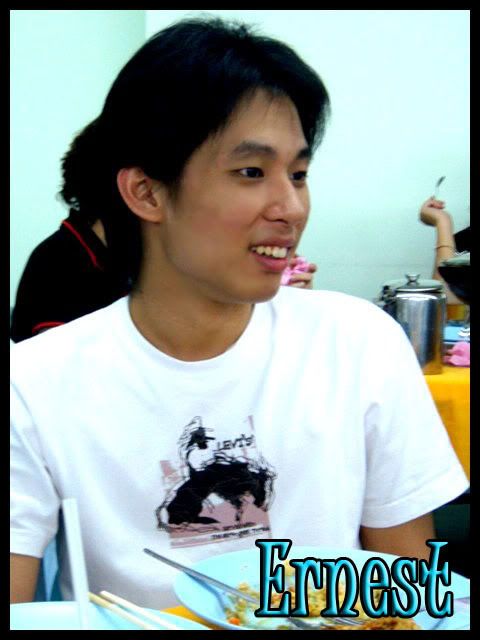 And later on, Sonia and Marcus joined us as well.
But they didn't eat though! Son says she's trying to lose
3 more pounds
.
I've no idea how skinny she wants to get. Crazy one, she.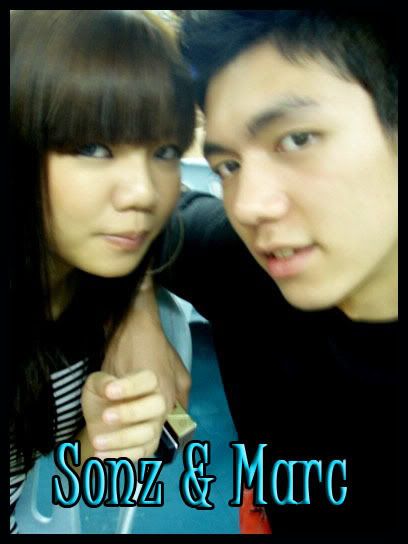 Oh, and she's got bangs now! Haha. She was actually going for the short-to-long bangs and attempted to cut it herself.... when it all went quite wrong and she had to make an emergency call to
Peekaboo
to fix up her hair.
Anyway, they missed out on: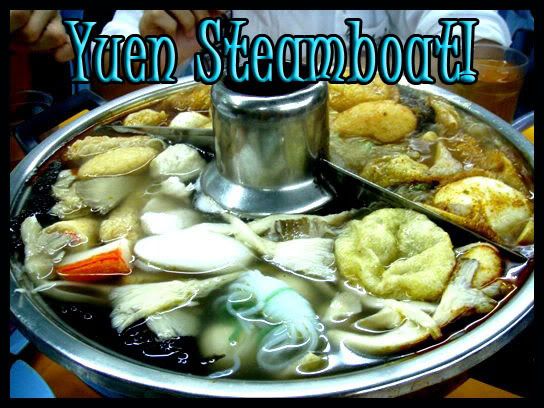 Mmmm. Limitless.
If I were to be very honest, I'm not a steamboat fan. But mix the
Tom Yam and Chin Tong Soup
together and have it with oodles of my super favourite
Chanterelle Mushrooms
... YUMMMMSS!!
And let's not
EVER
forget: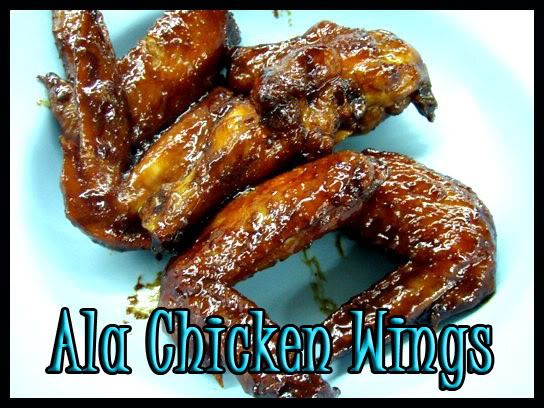 I mean, how deliciously delicious do they look?!
And after we had our tummies full...
Camwhore session!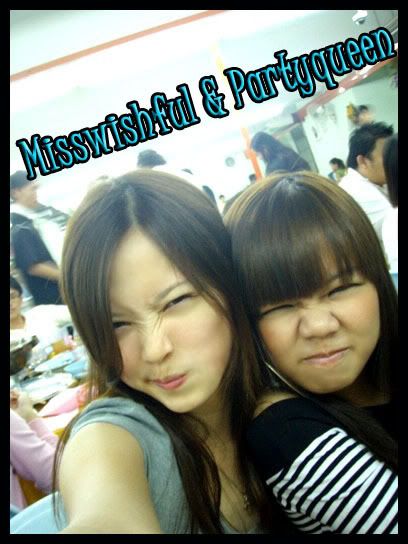 Le Bloggers.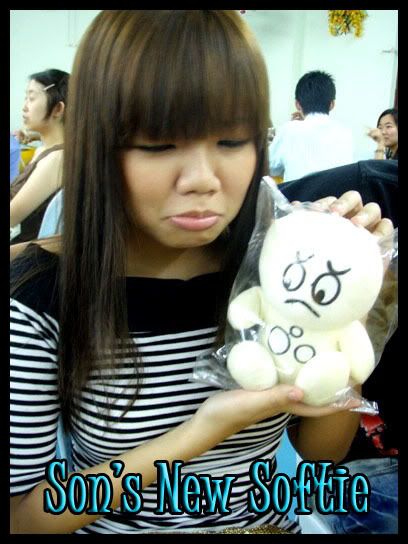 Son bought a softie from those handicapped people. So charitable!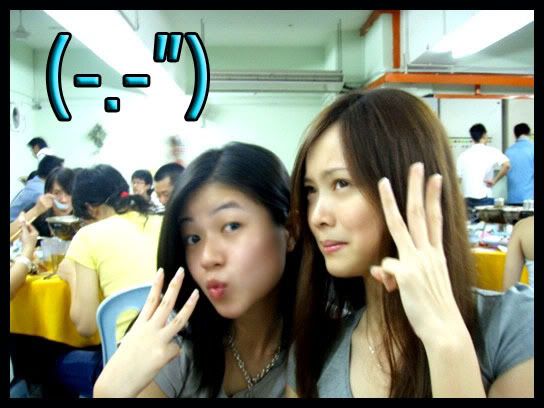 Haha. Trying to immitate the "
sweat face
". Should be two fingers, though, right?
Check out Ju's hamster fingers. Hehe. Super like to kacau her. I mean, can you denyyy?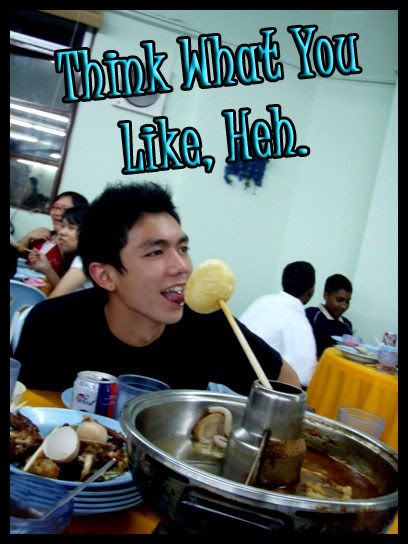 As quoted from
Perez
: Yummy, yummy, screw, screw!
Haha. That just came to my mind when I look at this pic.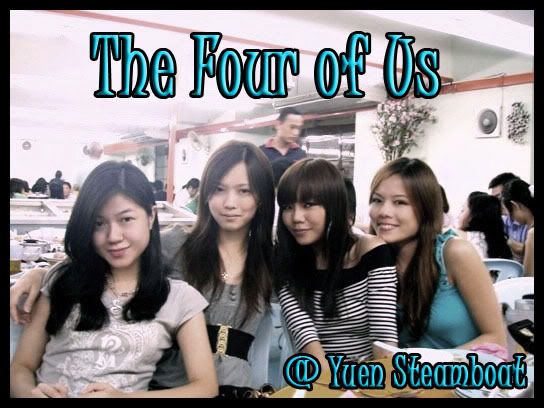 BFF's!!
Let's hope it'll stay that way!
I mean what with...
Jean's going off to
Melbourne
early next year.
Son's going to the
States
then too.
And me, off to
Canada
in May.
Ju hasn't got plans to go anywhere just yet and might be local-ing.
We'd be in
4
different countries by mid next year!
We grow up so quickly!
(Adults favourite quote! Well, I am

ALMOST

adult... more or less 6 months to go)
Anyway, let's not get all emo, huh?
Back to... erm, whatever I'm supposed to be back to.
Now all show teeth already. Contented and happy!
One thing that keeps me happy using my current cam, no make-up required to take a not-so-digusting picture of myself! Using my previous cam or my Sister's cam, goodness to gracious! Look like monster without make-up!!
Gosh, I just realized that I blog far too often about eating.
Everywhere I take picture (at home or away) always got food.
Sigh! I'm sorry if I'm boring you, readers!
I can't help it... the only thing I've been doing is eating and.... watching movies. Okay, sports now and then but other than that!!!
That's why I'm such a fatty bom bom now. Oh, no point convincing me. I swear, I've put on a few and no one can deny it! Sighhh. Time to pull a Sonia ;)
LOL. If you know what I mean!
Anyway, I can't be happening (like my other girlfriend who goes to the party scene ever so often) because Mr. Boyfriend would slit my throat if I go. To him, clubbing is some sort of infidelity on my part.
So how you tell me?
Wait until
16th of August
lor!
When I go
Aussie
... I'm gonna
PARTY
all the way!!!
(Hehe. Don't tell him!)
AND TOUCH SNOW FOR THE FIRST TIME TOO!!!!
I hope I can get
Adobe
running over there though...
Okay, okay.
I have to go now! I'm going to go check my results online....
PRAY THAT I PASS!!!
(70%)
AMEN.