AUP Ball
Darnit.
I have officially screwed up in my
Finance
paper today.
I'd be happy with a
C (70%).
VERY, VERY
grateful if I can get a
C.
EXTREMELY,
COMPLETELY,

SUPERBLY

THANKFUL IF I COULD.
Sob.
Stupid theory part.
SO confusing.
I threw away a
9 marker question
(out of 100 marks) just because I mixed up
"KEY Features of a Bond"
and
"Features of a Bond."
(I wrote just the features of a bond and
NOT
the
KEY
features)
It's time to draw the
sweat face:
(-_-")
Or the
crying face:
T_T
SIGH!!!
Hey,
9 marks
is hella lot of marks considering the other possible mistakes I might've made in other questions, you know!
I was aiming for a
B (80%)
at first, but I'd have to get at least a
34/40.
But since the paper had
4 questions
which were all worth
25 marks each
, I had to get an
85/100
which is currently now near impossible what with the loss of the
9 marks
and the fact I was talking complete rubbish for
2 of the theory questions.
DOUBLY SIGHH!!!
Let's talk about happier times, shall we?
Dance & Band Performance @ AUP Ball, Eastin Hotel (20th July, 2007)


At
Ju's place
just after getting ready.
Gosh, is it me or do I look muchos younger in that pic?
Cute
, hor?
LOL.
Hahahaha.
Just kidding lar. Not so thick skin. But I do feel I look a little different there.
Like a little girl who slapped on a lot of make-up.
Anyway, we all got ready at Ju's place where Son did all our
Puff Up Flowerhorn
hairstyle. Haha.
Then,
Andrew and Marco Polo
drove us to
Eastin
and we waited in the
VIP room
until it was our turn to perform.
It was our
Dance Performance
first.
But before that, we took some pics first of course!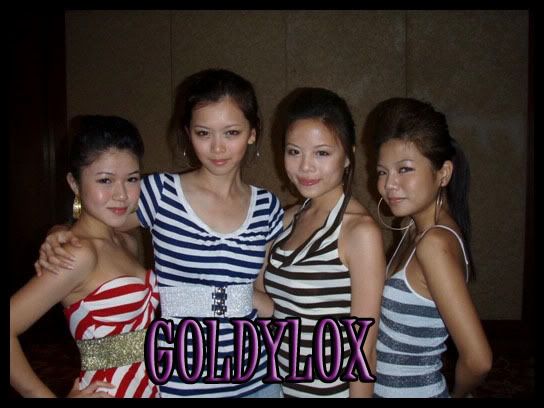 All stripes this time!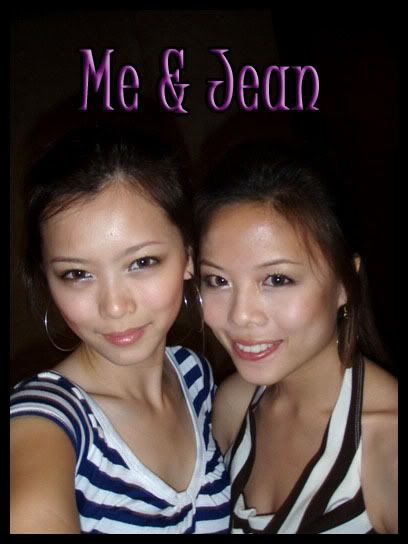 By the way, all our outfits are sponsored by Jean's closet. Haha! She's got
SO
many striped shirts!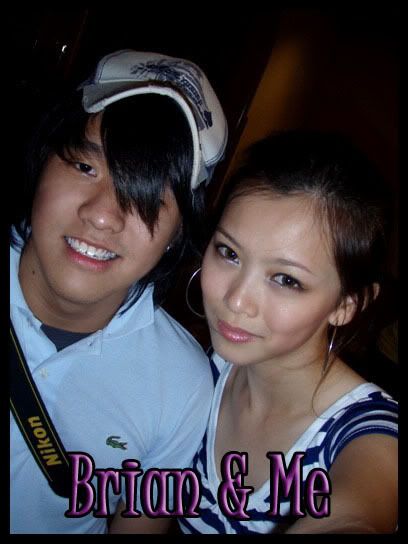 Photographer/Drummer Boy.
Wah, his hair so cool. Cover one eye one.
And then, it's off for our performance!
We actually just did a repeated performance because everything was so last minute.
So we danced to
Pink Panther, Maneater and Candyman
again!
Mind, we had only
1 practice.
Here are a few pics of us taken by
Brian
!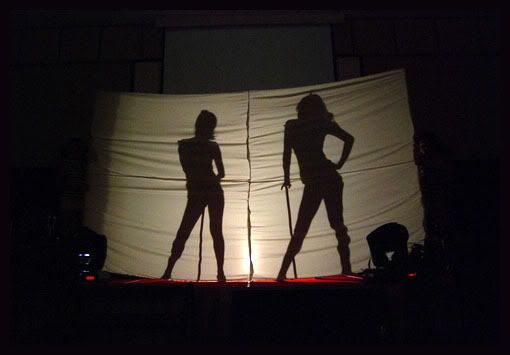 No points for guessing who's the giant.
(Or the midget...
HEHE
)
Jean and Ju!
Me and Son!
Jean and Ju again.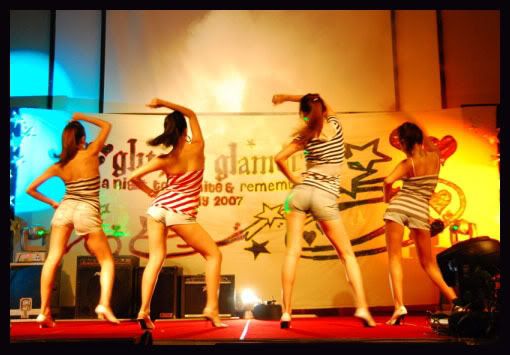 All of us!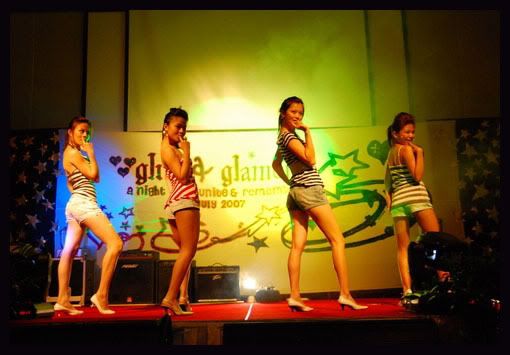 GOLDYLOX!
And after our dance performance, it's off to change to my
Band Performance
outfit!
Once I've changed, I made all of them (
me bandmates:
Bri, Ah Mah, Pin and Gene
) take a lot, a lot, a
LOT
of pics together!!
Andrew
was the photographer of the day.
Ah Mah. Me. Brian. Pin. Gene.
I still don't get why we're called
Crazy Lady
. I honestly hope the joke's not on me... seeing as how I'm the only girl in the band and all.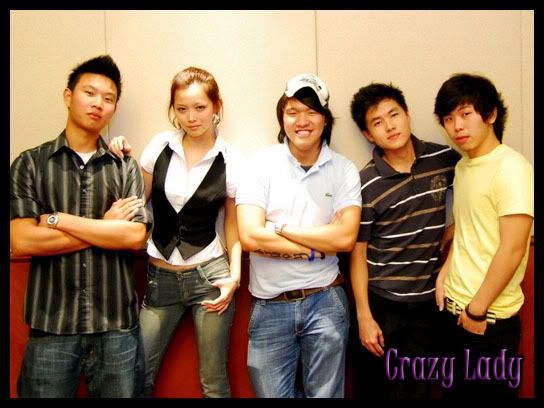 Pose more cool bit. Except for
Pin
lar. Dunno why he's smiling so serenely for also and somemore got this hand on his waist like an Aunty. I mentioned pretty clearly to pose, "
Cool abit!
".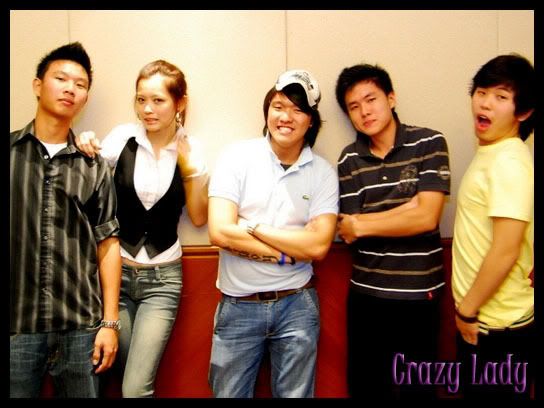 And here we've started to ask Drew to just keep snapping so we'll start doing poses! Look at Gene! Haha.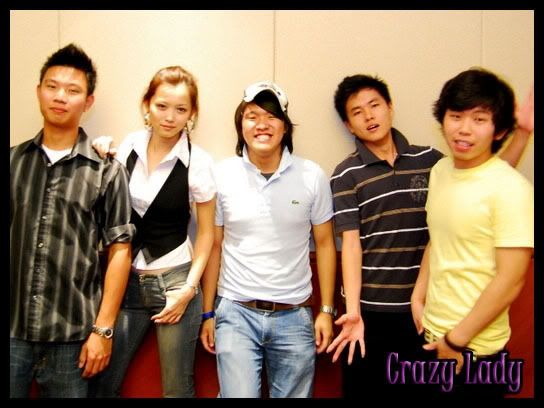 Pin, as usual.... er.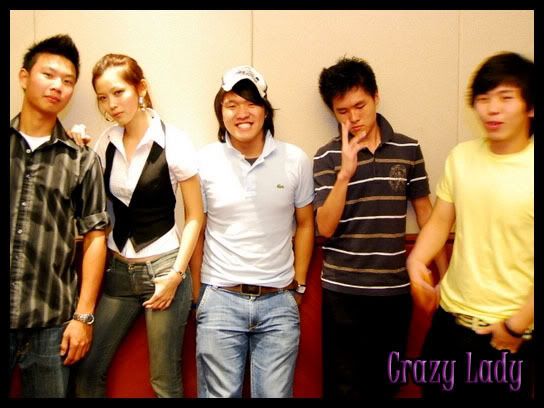 Me and Ah Mah still posing "
cool
" and if you noticed, Brian has been smiling
ALL THE WAY.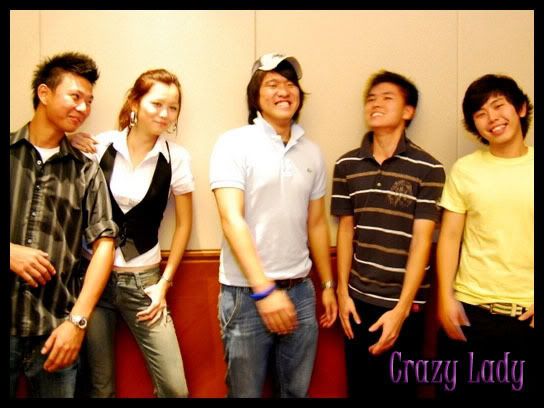 All smiles.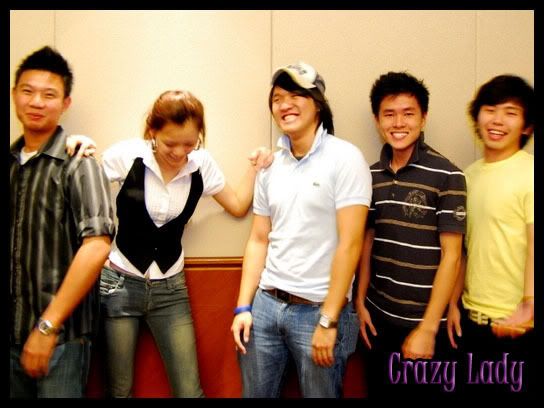 Dunno what to pose already.
I thought I said, "
Look up!
" so I dunno where Pin and Bri are looking at. Gene and Ah Mah doing some stunt.
Gene blocks Pin.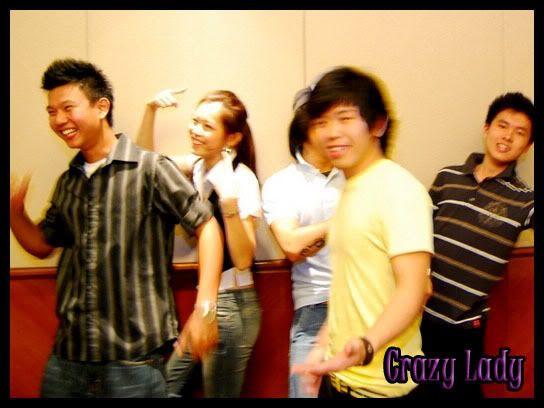 Gene blocks Bri.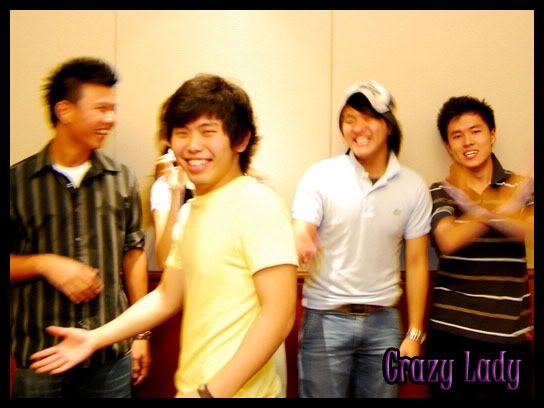 Gene blocks Me.
Gene always wants the limelight in front of the cam (as you've seen) but he stones and does not move when we are on stage!
Lousy boy.
Anyway, told you it was a
LOT
of pictures. Haha.
We didn't get the pic where Gene blocked Ah Mah though, haha. That'd be pretty funny.
The photographer. Not bad for a noobie.
So for our
Band Performance
, we played:
1. Boston -

Augustana
2. Stolen -

Dashboard Confessional
3. Mr. Brightside -

The Killers
4. Starlight -

Muse
Man, all the girls were all over Ah Mah. Think all of them fell in love with his singing and... ahem... "yengness".
But no doubt about it, that boy can sing. Got that husky voice that girls would drool over.
For
Boston
, there weren't that much response from the crowd. But once we played
Stolen
, a couple came up to dance and later more people came up to dance and by the time
Starlight
was on, there was a
ROW
of girls dancing in front of Ah Mah!
Hahahahah. So funnay.
So after my Band Performance,
Jean, Ju and Son
who waited and supported me performance (
spanks, girls! Love you all loads
), as well as I, went over to the
Curve Mcdonald's
to chill for a bit.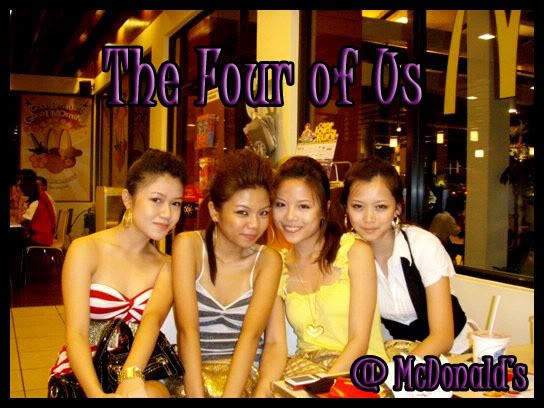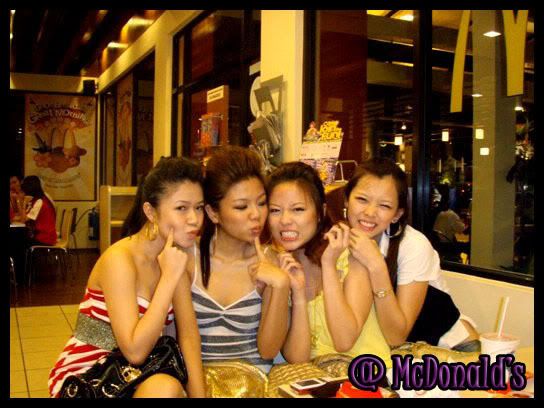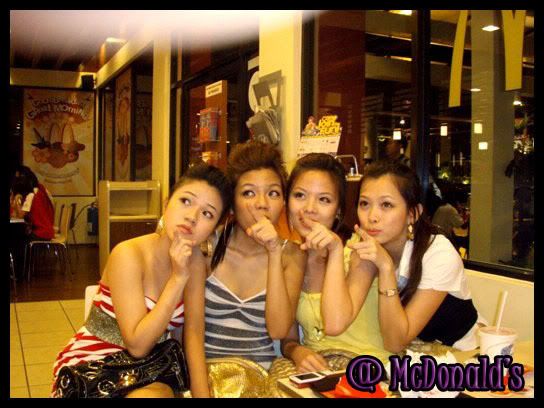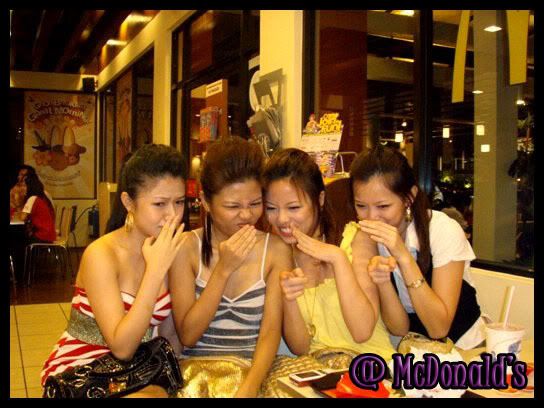 LOL.
Man,
Sam's
shoes must've been really smelly! Haha.
Ju's
face is the funniest!!
It's like, she
REALLY
thinks it stinks really bad!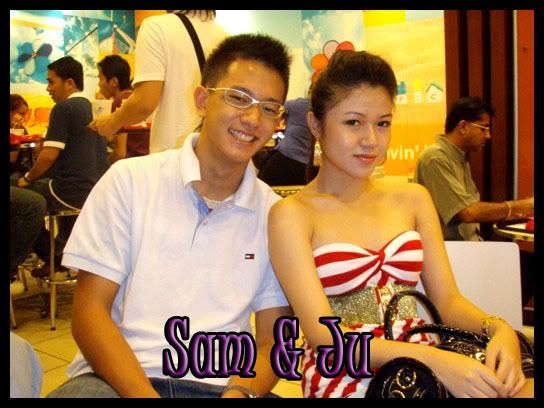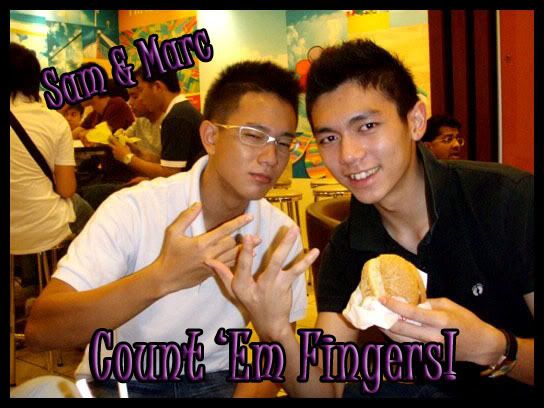 Famous Four Fingered Marco Polo.
And now, a
photo montage
of Ju and Son: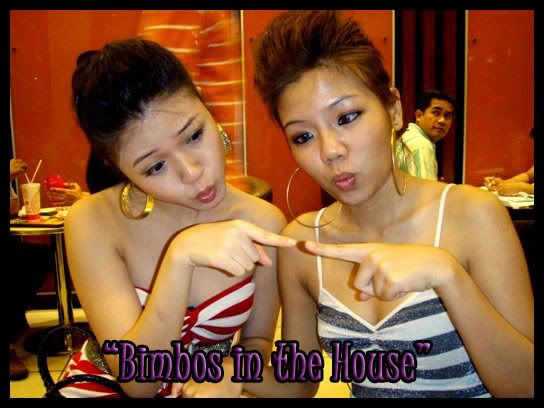 LOL.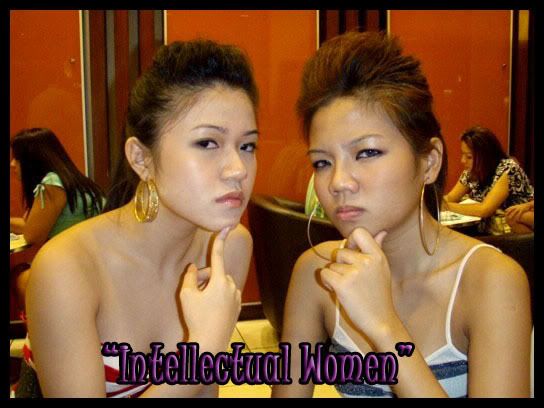 AHEM.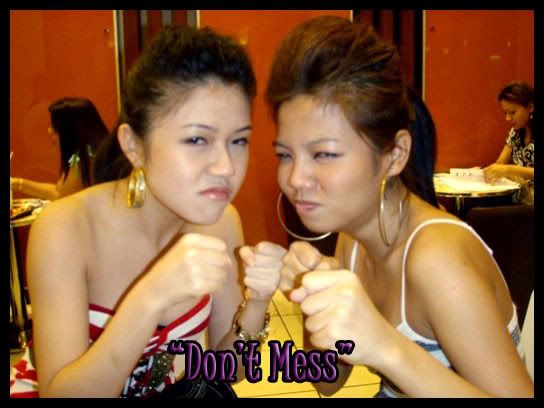 Seriously, don't.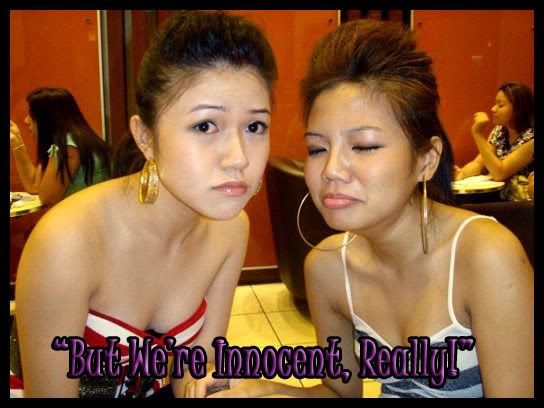 NO!
Not, really!! Haha. They are the "chilli padi" of our group. They may look teensy and all but
DON'T BE FOOLED!!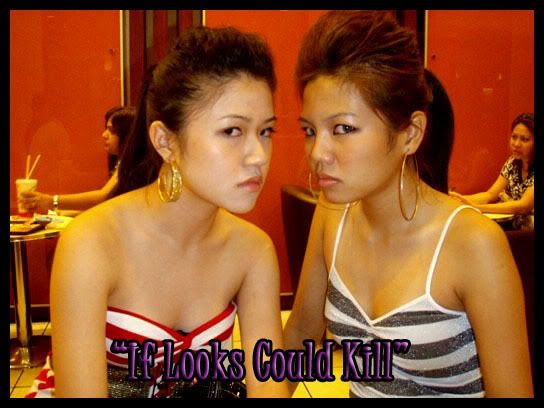 See what I mean?
But wait!
Son
can be very lovable too:
Haha. Ju looks super funny as usual. I instructed this pose actually!
Then,
Jean and I
went and imitated them!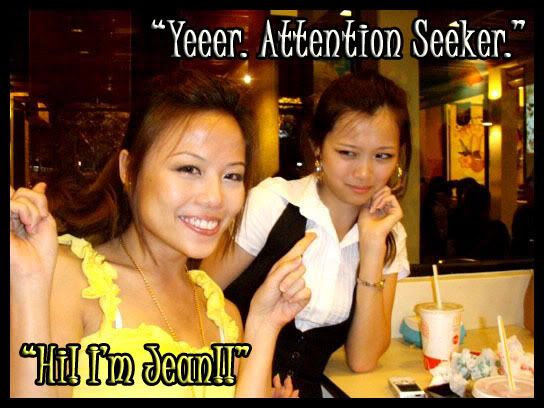 Haha!
Last but not least:
Hehehehehehehehehe.
UNTIL NEXT TIME!!!
(Wish me luck for my

Accounting II

paperrrrrrr!!)