Joe is Back & SPM Cert Incident
JOE'S BACK!
He's been back since a week back but he's been sooooo busy and well, so have I so I haven't got to see him until just yesterday!
I had to pick him up for dinner (a very rare thing for me to do) because that fella has
NOT YET GOTTEN HIMSELF A DRIVING LICENCE!!!
I mean,
HELLLOOOO???
It's been
2 years
since he has been eligible to get a licence and yet he has not gotten it.
No time,
he says.
And
I'm
already on my way out of a
'P'
by end of July!
Tsk, tsk, tsk.
ANYWAY,
we didn't know where to eat so I suggested
Manhattan's
because I absolutely adore that place and Joe has not tried it before. Can't believe he hasn't tried it!!!
There's a branch at
Centrepoint, Midvalley, Sunway Pyramid, Cineleisure, Klang Valley
etc!
It's like saying you haven't tried
McDonalds
before!
YEAH, SO...
Me bestie!
I remember torturing this poor boy a lot in highschool.
I did
SO
many semi-evil things to him... and he ends up apologizing to me somehow! It was really fun.
Gosh, I miss those days.
I was so evil.
I remember how he keeps annoying me with his repetitive exclamation, "
MY MONKEY'S NAME IS BOB!
"
So irritating. So in return, I'd forced him to pick up my pen when it drops
EVERYTIME
. Because he's annoying and I am too lazy to pick it up. Hehhehee.
Plus, I'd make him sing songs for me... such as "
I'm a Slave for You
" and songs that tell me how great I am and how he hails my greatness.
BWAHAHAH!!
Goodness, how'd he put up with me?
Sigh.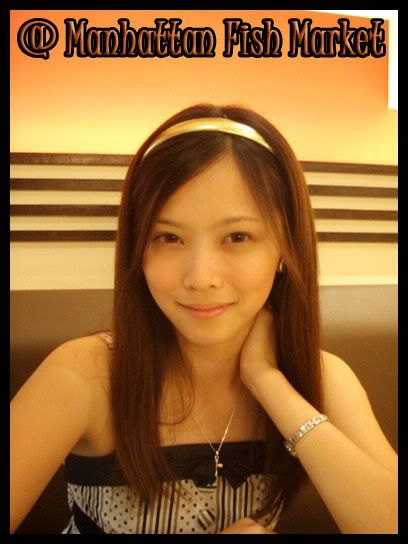 I am his Master.
No, really. He literally says, "
Yes, Master,
" when I ask him to do something for me.
And the best part? I didn't have to force him to!
HAHAHAHHA!!!
Wow, I'm so powderful man.
Nah, Joe's just way too nice. Poor boy. I always bully him. Feel quite bad. Actually... not really.
I think quite a lot of my notes all got his handwriting. HEHE.
Eh, when I'm in the mood, I write for him also one, okay! (Just that he does it more often lar of course...)
He's a monkey.
MY
monkey. Ngeks.
My first picture doesn't look convincing enough. I look more like I'm in a "constipated mode" then an "I wanna kill you mode".
What we had: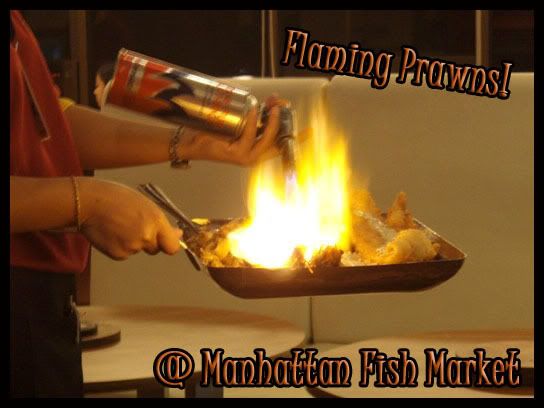 Oooohh! Ahhhh!!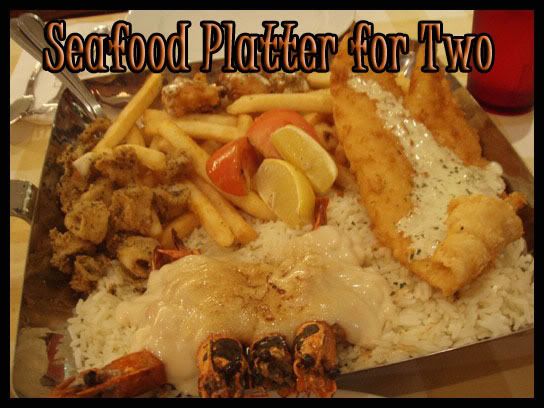 Yummeh. The gravy for the prawns is freaking gosu man.
MMMM!!!
Ate this a ga-zillion-billion-million-trillion times and I still love it.
Gosh, no make-up and I look like a small girl with dark circles and bags! Aiyerrrr. But cannot laaa, I'm soooo lazy to put on make-up sometimes. It's the removing part and the fact that I can't rub my eyes (bad, bad habit of mine) when I have eyeliner on.
You know, I always have problem going into clubs one.
My face looks like a little kid's face man! So annoying. Always kena stopped and ask for
IC
all.
So I am only eligible for
Maison
.
Unless I'm out with
Lena
who is a freaking hardcore clubber and knows the whole darn clubbing world and therefore this will allow me to go in eventhough I'm underaged.
Anyway, after dinner, I dropped Joe off to meet some of his other friends.
And among those other friends, is
Lydia
, which is
Andrew's sister
...
SO WEIRD LAH!
If Joe
EVER
goes out with Lydia.. as in, goes out goes out,
IT WILL BE SO WEIRD!
Omgosh. Weirddddd.
It's like, your boyfriend's sister/ex-bestie going out with your bestie.
WEIRRRDDDD!!!!
It was sort of weird also larr when I got together with Andrew at first.
But it'll be even more awkward if anything of that sort happens again.
---------------------------------------------------------------------------------------
SO..
Just the other day, I finally decided to pick up my
SPM Cert.
During my lo-ong break between classes, I dropped by my ex-High School,
Damansara Jaya.
Everything still looked the same. I really missed the place.
5 years
of memories there, you know!
But all my favourite teachers are gone already so I didn't bother visiting anyone that day.
I remembered during my 1st few years of High School, the disciplinary stuff wasn't as strict. I don't recall hating any discipline teachers because they were all... well, not very strict.
It was mostly because the current headmistress then was freaking lazy lar. Barely see her lift a finger to do anything. Which is good lor!! I mean, she only comes for... really, really, really important events.
And as lazy as she was, came Form 3, she got promoted!!!
So someone else took over her job as being headmistress for
DJ
.
This time, it was a
Chinese
headmistress. I'm not going state her name for... well, for my own good!
Sudddeeennlllyy, someone go find her and blab to her what I am about to dish about her then I will be sooooo dead.
But I just
HAVE
to say this because........ I dunno. I just suddenly thought of it so I'm going to say it.
When I was in
Form 4
, I visited her office because I wanted to transfer class. I had a retarded class teacher (I'm not gonna even start on
THIS
one because.. I would have a never ending post) so I just cannot tahan and needed to transfer.
So we were both sitting down in her office (we sat at the lounge area.. coffee table and sofas) and discussed. Suddenly, someone came in an interrupted us.
As she talked to that person, while waiting for them to finish, my eyes accidently fell upon her legs.
She was wearing a 3-quarts black skirt so I can see her calves.
And I was like...
OMGGGGG!!!!!
In my head lar, of course. Not out loud.
I promise you, I have never seen such
hairy legs
on a woman before.
It was really traumatizing.
And as she came back to be to continue our discussion, I had to restrain bursting out laughing so I ended up with this goofy smile plastered on my face throughout the whole time we talked.
In the end, I didn't get to transfer class which was really pissing off but I managed to survive with my class teacher anyhow.
OKAY, THIS IS NOT THE POINT. I HAVE TOTALLY STRAYED FROM MY ORIGINAL TOPIC WHICH IS THE COLLECTION OF MY SPM CERT!
Back to
THAT
...
I breezed into school and reminisce the old memories and bumped into
Pn. Mary-Ann.
Well, I think that's her name. Who cares anyway. Piss me off only.
Sorry.
You'll understand why soon.
So when I walking up the stairs, she looked at me like as though I'm some kinda of alien species and asked me, "

Why are you here for?

"
"

Er, to collect my
SPM Cert
.

"
Then, she continued staring at me and I could see her eyes narrowing at me like as though I'm a dodgy girl going to rob the school or suddenly run wildly and start shooting at students. "

Oooooookay. You come.

"
Errr, okay. I will come then. Gee.
So I followed her into the office and then she went and tell me, "

You know, I don't think you can collect your SPM Cert.

"
Wahh, seriously. First she ask me to "come" and then now she say I cannot collect. Like, what the..
"

Oh, really? Why?

" I asked innocently.
She looked at me up and down accusingly and said, "

Wearing like that? I don't think so.

"
HUH.
WHAT THE...
Somemore she said it as though it was SO obvious and I am damn stupid not to have realized it.
I promise you; I was wearing just shorts (jeans, from
WH
and is not very short. Like normal shorts people wear lor!) and a long,
LOOSE
, floral print spaghetti top.
Plus, I went to college in that outfit!!!
What the heck they expect me to wear?
TUDUNG AR????!!
Blooody. I was freaking pissed lor! I'm just going to collect the cert which will take less than
10 seconds
. Want me to wear prom dress is it????
Anyway, when I stood there looking at her without answering and was wearing an absolutely fake smile while trying not to look annoyed, she told me, "

You wait here first. I will talk to the
Datin
.

"
Which I assumed was the
new
headmistress.

Whatever man.
I just went to the counter and asked the person behind the counter for my cert and I signed my name, picked up my cert and was ready to run for it when suddenly...
One unknown woman in yellow tudung came out.
Pn. Annoying Face
came out.
(Name is not written for my life purpose sake. She might have children who know people here who read my blog!)
And
Pn. Pontianak
came out.
(
THIS
one you ex-DJians who take
Bio
dunno I laugh)
Unknown woman in yellow tudung was obviously the
Datin/Headmistress
.
ALL
of them looked at me accusingly as though I am in some
super obscene lingerie
or something!!!
Datin comes up to me first and said, "

Girl, who are you? Were you a student of this school?

"
.....Gee, if not why the HECK would I be holding the SPM Cert which was currently in my hands right now. "

Er, yep.

"
"

Do you know you are not allowed to wear
like that
to school?

" said Yellow Tudung. And the way she said "
like tha
t"... WAAAHH!! Seriously, man.
Then,
Kenzie
(did I mention Kenzie was with me? Oops, no I don't think so. Well, he was) spoke up. "

What's wrong with what she's wearing?

"
Now Pn. Annoying Face decided to speak up too. "

She cannot wear

(looks accusingly at my back)

clothes that bare the back and
hot shorts
.

"
EXCUSE ME??????
For gosh sake's man! It was a
HIGH-RISE
spaghetti top,
OKAY!!
And
HOT SHORTS????
I will
DRAW
for you what I wore so you'd have better visualization:
I know my drawing is bit off but I am not very artistic so that's the best I can do.
Note the loose, long top over my jeans shorts.
I mean, I wore that to college! And nobody went all fashion police on me there!
Anyway, where was I?
Oh, yeah.
I really wanted to kick
Pn. Annoying Face
. Her face is so annoying. Grrr!!
"

So what is she supposed to wear? You want her to wear a dress to school or something?

" Kenzie who thinks all of this was utter nonsense... well, he did grow up in an International School.
"

No lah. But this is very unappropriate,

" Yellow Tudung said.
I just looked at her and smiled politely (gosh, I am so nice man. If it's
Son
they confirm
GG
already) and asked, "

So then, how?

" while absent-mindedly waving my SPM Cert a little. "

I can't collect it now? I have to come back another time?

" I added with slight irritation and a little disbelief that I am in such a dumb situation.
Yellow Tudung looks at the cert in my hand and sighed. "

Well, since you've already taken it and signed your name then nevermindlah. But please tell all your friends not to dress...
like that
to school, okay?

"
WAH, SERIOUSLY! HER "LIKE THAT"!!!
Like I'm some kind of
HO
or something. Freaking backward man their thinking.
OMG.
Then, Pn. Annoying Face added, "

You can wear shorts if you want to. You know, those
BERMUDA SHORTS
?

"
Bermuda shorts.
BERMUDA SHORTS!!!
Hello.
Do I look like the type of person who wears
BERMUDA
shorts ar?
I DON'T THINK SOOO.
And all these while,
Pn. Pontianak
was staring at me as though I am the mistress of her husband or something. Rub garlic all over her face only she know.
I was really steamed up lor. But at least I got my cert. Man, the only person who was not hostile toward me was
Bala
.
Bala is a really nice security dude. Last time when I used to ponteng with some friends, he always chased us but he purposely runs slowly so he won't be able to catch us.
Dunno whether he's lazy or nice lar.
Either way, at least he was friendly to me eventhough I was dressed up as an apparent
Play Boy
magazine model.
This whole situation just reminded me of how we couldn't wear earrings which were longer than
1cm
or couldn't wear coloured socks or shiny, glittery rubberbands especially if it's not black, blue or white...
I bet
SMKDJ
has a whole load of confiscated coloured socks, rubberbands and earrings.
Half of which is probably
mine, Jean's, Ju's or Son's
.
In my last year of Form 5, I gave up and just wore plain rubberbands and plain white socks and had to cut my nails ever so often and refrain myself from painting them.
MAN!
How did we survive.
I am
SO
glad I'm out of school. Government school is so retarded. The only good thing they did was change all the
BM
syllables to
English
... which is still annoying to me because it didn't happen in my year. So dumb!
All right. Enough of my rant.
I got my
SPM Cert
and that's all there is to it.
I don't want anything to do with my ex-school anymore unless it involves my ex-schoolmates which was probably the only thing that kept me going to that darn school.
Over and out!