Finance Horror, My New Bible, Movie Review & 15th Month Anniversary!
What do you do...
When you are
100%
convinced your lecturer for
BOTH
your classes (
Finance & Accounting 2
) isn't the best you've got (possibly the worst) and honest to goodness...
SUCKS
at the whole teaching business
BUT
.... he's, like, the
nicest
ever???
GOSH.
I just had my
Finance Midterms
today and nearly died. I mean, I wouldn't say it was dead difficult... but it sure was hard!!
The thing is, I think I had sufficient study time (eventhough I studied just the day before...... well, it's not how
LONG
you study, it's how WELL you do it) in reading up my Finance notes and based on the exercises we did, I had my calculation down.
And according to
Mr. Ravi
(my lecturer), he says that whatever is coming out in our Midterms, is based on what we've done before in class.
YEAH, SURE!!!
Biggest joke
EVER!!
Honestly, it's like he's trying to purposely fail all of us!
Of course, it's even
suckier
(don't think that word exists but who cares.. you get what I mean) that I've got
brainiacs
in my class who probably studied
a whole semester
before and
researched the textbooks
for extra knowledge etc.
STRESS!!!
You gotta understand... his way of teaching... well, let's just say I don't really learn much.
I don't understand half the things he teaches so I end up memorizing everything because there "
isn't much time to understand it
" (he says). Like... he is encouraging me to blindly memorize. He blames the short sem period because everything's a rush.
That still doesn't mean I shouldn't understand what the heckers I'm learning, you know!!! Heck, even the brainiacs don't understand and just memorize. But they are brainiacs... they are trained to do that.
I asked them to teach me and all.. I'm not kiasu. When I dunno... means I dunno and I need to ask people who know. But not much difference lar.
It's like... the blind leading the blind.
It's not like he doesn't answer
ALL
the questions we throw at him. It's just that if he
CAN'T
answer our questions (we've got tons of questions because the way he teaches is far too vague to seriously get the point), he'll just ask us to... "
memorize
".
You tell me which lecturer will encourage you to memorize???!!
Honestly lor! My grades are
SO
gonna go down the drain at this rate!!! I'm freaking stressed because I can kiss good-bye being on the
Dean's List
already!
Maybe it's my own fault for taking
Level 3 classes
. Sigh.
Well, it's complicating... the whole
ADP
program thing and the subsequent subjects that can or cannot, should or should not be taken. If I try to explain why I'm taking advance classes so quickly (being in my
2nd year
only), you all will probably start drooling on the keyboard.
But at least I pay attention in class unlike
SOME
people...
Ahem.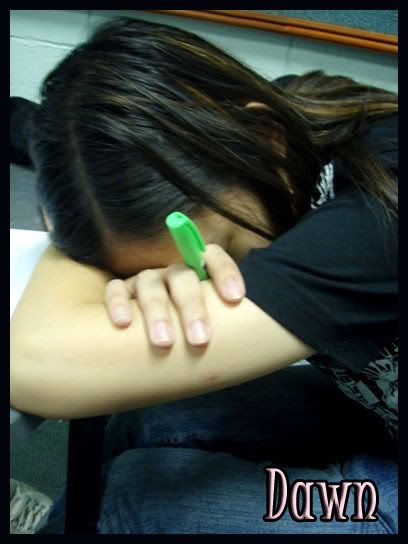 Tsk.
And
THESE
are the people I have in my
Group Assignment
.
No larrr. They only, like, shut their eyes for
10 seconds
... Okay, Ben probably slept
10 whole minutes
.
But that day I had a cam so I snap, snap very fast!
I also snapped someone else.
Introducing: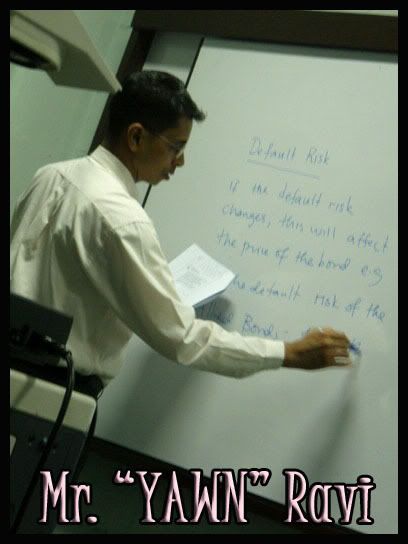 He's a sweetheart, really.
BUT..
Sigh.
I just don't flow with him I guess.
(and neither do my 10 other classmates...)
He
CONFUSES
me constantly.
Dawn
(who took
Accounting 2
before), is thankfully there for me during
Acc2 Class
. She helps me
ALOT
. I think I learn from her more than from...
But for
Finance
.... even a smart ass girl like her is struggling.
THAT GOES TO SHOW PEOPLE!!!
Good lecturers/teachers are
SO
important.
Because of the sucky
chemistry teacher
I had back in highschool, me and
Chem
just totally
DON'T GO!
Hate Chem.

I'm a

Physics

Girl.
So anyway, I just want to conclude that I am basically screwed for both my subjects lor!
I really do try my hardest one, you know...
I've never skipped a class, I pay attention, I ask questions (a whole dang lot!), I do my homework, I study, I
TRY
to score in tests, I've completed my assignment (
EARLY!!!
I thought the due date was today... it's on
Thursday
)....
I think I am a very good student! And previously, my previous
LADY
lecturers were awesome and always rewarded me with an
A
and the worst... a
BA
!!
Only
MALE
lecturers gimme
B
and below.
(had

2

female and

2

male before)
Boooo to Dr. Loh
(previous
Marketing, Business Enterprise and Management Lecturer
) and possibly
Mr. Ravi
. If I get less than a
B
in these two subjects that is. Since for
Accounting 1,
I did manage to snag a
BA
from him... only because I did Accounts in Highschool of course and therefore, understood mostly everything. Half the class failed by the way.
OOOOOOOKAY!

F YOU ACTUALLY READ ALL THAT MAMBO JUMBO I JUST WROTE... CONGRATS TO YOU!
I even bore myself. Gosh! Sorry I'm so boring.
I just finished my
Midterms
and have the whole
Finance Fever
and somemore I have an
Accounting 2 test
tomorrow...
Don't ask me what the heck I'm still doing online, blogging all.
----------------------------------------------------------------------------------------
On a lighter note...
I HAVE MYSELF A NEW BIBLE!!!
It's such a pretty lil' thing :)
I lost my old bible and now
Joe
got me a really pretty one.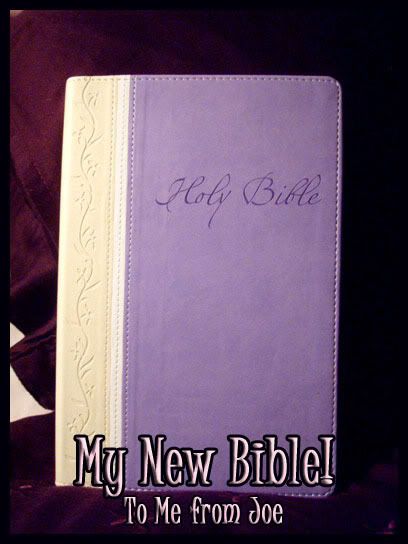 The cover is made of leather-ish material. Very soft!
And the pages are lined in
GOLD!!
I REALLY, REALLY LIKE IT!!
THANKS JOEEEE!!!
Also,
JEAN IS BACK FROM BANGKOK!!
Which means...
NEW STUFFFFFFFF FOR MEEE!!
Yay. I can't wait to see her to goss goss and to collect my...
SOUVENIRS.
HEHE.
I pre-ordered some stuff to be bought back because I couldn't make it for the trip.
(she went to honeymoon all with Hoong Sheng maaarr. So where can just barge in with them all! No manners only)
Can't wait!! Says she got me a really cute
Baby T's, earrings and flip flops!
And I only passed her
RM160/=.
This money is inclusive of
Andrew's Polo Shirts
I told her to help buy also.
MAN, I LOVE BANGKOK!
I am
SO
going back there year end or next year!!
----------------------------------------------------------------------------------------
Movie Review
Die Hard IV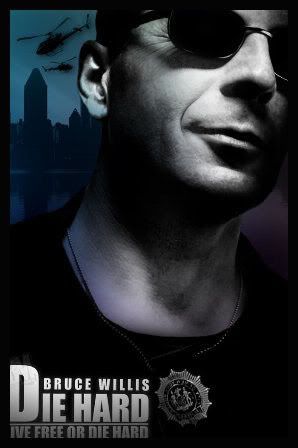 I personally think the movie is
OKAY
only. Maybe it's because I watched
Transformers
(twice) and then when watch this.. it's like....
YAWN
.
I was starting to imagine the vehicles in the movie transforming to
Optimus Prime
already. Haha. Yeah, I'm lame. Fi-ine.
Oh, need I mention that
Maggie Q's
role in this movie is...
FREAKING KEH-LEH-FEH!
I don't know how to spell it but that's how to pronounce it. It's a
Cantonese
word, you bananas! (I'm one too actually.. haha). Anyway, it basically means, an extremely side character.
Even
Bruce Willis'
daughter had a better role. And they somemore put Maggie Q's name one of the first in line in the credits!
Oh, well. It's only due to her hotness.
Can't deny it. She's really hot lor.
Andrew
watched the movie only because of her.
He's darn hamsap. Hamsap boy.
Anyway, it's
OKAY
only laarr. Don't know what's everyone shouting about. Transformers
SO
kicked their arses. I think the timing for this movie is bad... came out roughly the same time like Transformers. Make people like me compare the two movies only.
Ratings:
Brilliant! A Must-See!
Exceed Expectations. Two Thums Up!
Satisfactory. Enjoyable.
Mediocre. Very Average.
Bored to Tears. Almost Slept.
Fuctionally Retarded. Left Cinema.
----------------------------------------------------------------------------------------
And one last thing...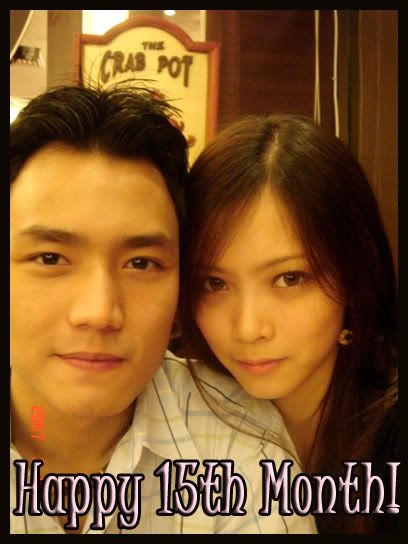 We made it this far! Hurray!
Hahaha.
He's so annoying sometimes... emo freaking fast.
But I still love him <3
OKAY!!! WISH ME LUCK FOR MY TEST TOMORROW WHICH I AM RUNNING OUT OF TIME TO STUDY FOR BECAUSE I WAS SO ITCHY FINGERS AND WENT AND BLOG WHICH KILLED 1 HOUR AND THE HALF OF PRECIOUS TIME!!!