Home Cooked Meal: Chicken Chop
Just yesterday, wannabe

Chef Natalia

decides to cook

Chicken Chop

for fun!
So as usual, I get my guinea pig,
Andrew
, to taste my skills!
So after sayyyy, half an hour to 45 minutes of preparation and mixing up this and that and adding any spices I could grab in my hands...
.
.
.
.
.
.
.
.
.
.
.
.
.
.
.
.
.
.
.
.
WE HAVE THE: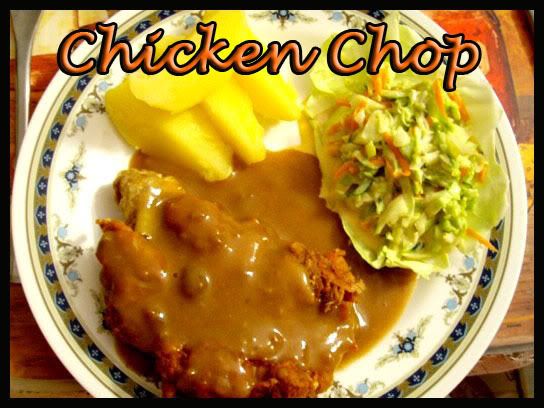 Nyam nyam.
Hehe. It was not bad, if I do say so myself!!
I'm sorry if I am a weirdo chef who thinks her own work is good (
Jean
never compliments her own food, you see), but well,
I'M PRETTY DARN PROUD OF MYSELF!
Haha.
But wait...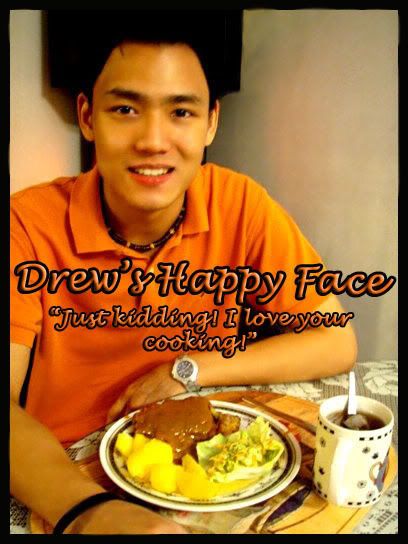 He'd better!!
Guinea pig.
Heheheheh.
Ironically, he's having
diarrhoea
now.
No, I'm seriously serious.
If not I wouldn't be home blogging and would be, in fact, sitting in
Tony Roma's
right now for the dinner he owes me for our
16th Month Anniversary!
AND HIS DIARRHOEA IS NOT FROM MY CHICKEN CHOP OKAYYY!?!?
I mean, or else I'd have it too whhaaattt.
No, he says that it's from the
Char Kuay Teow
he ate two days ago. Apparently, his mom bought it in the morning and he ate during the late afternooon so...
YEAH, AS LONG AS IT AIN'T 'CAUSE OF MY CHICKEN CHOP!!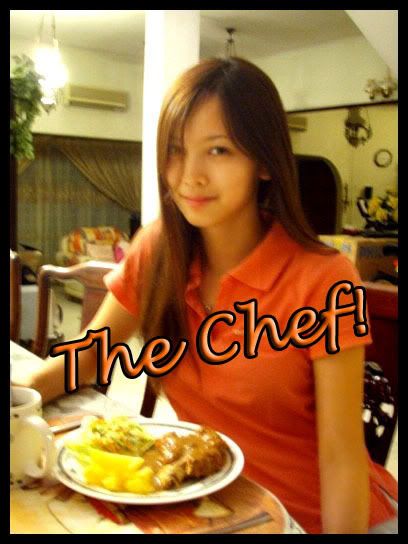 Thaaaaaaaat's ME!!
After eating, Drew told me he was frustrated that my camera couldn't take nice pictures of him (he tried camwhoring with my camera while I was cooking) so he insisted that I played around with the modes and take a
"GOOD"
picture of him.
Sure.
Yeah, more like
452, 763, 135
pictures of him!!!
He is so fussy. Like a chick only. Shessshh!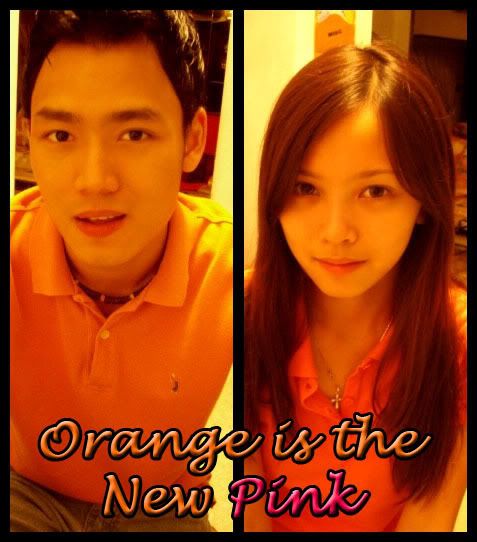 One of the 452, 763, 135 pictures I took of him and the
ONE AND ONLY
picture he took of me.
Sigh, I keep telling him it's the
PERSON
not the
CAMERA.
I mean, no matter what mode you put or how well you take the picture, sometimes, when you cannot make it... means you
CANNOT MAKE IT!!
But no laarrrhh, I still think Andrew's very handsome.
Just hope he doesn't hear me say that, that's why I put in super small words. He'd totally bloat up like a blowfish.
Yeah, okay. Anyway, there was nothing left to do at my place so we went over to his place where the other guys were going to go over to play poker.
Drew says he's taking a break from poker and I'm not a high roller so I dare not join in. We're talking about roughly
RM2k
circulating in the game!! And only
7
players!!!
Craze.
So we (Drew and I) decided to play
BOARD GAMES
instead!
Obviously, this is
SO
my area of expertise.
Anyway, I beat him in every game we played (
doh
).
We played lotsa lamo games but this one; we had the
MOST
fun!! And it brought back loads of Primary School memories too.
Anyone remember....
BATTLESHIP???
Hahah! Fella kena tapau'd. All his ships went
DOWN
y'all!!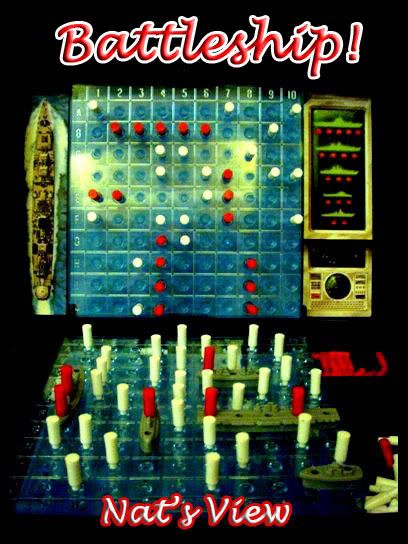 He couldn't find my teensiest boat! Bwahaha. I hid it at the super corner where he claimed that no one will be stupid enough to put it there so he won't waste his time guessing it.
HAHA.
I'm such a genius sometimes.
Sigh!!
Okay, Astro's showing
Poseidon
now and since I'm a sucker for re-runs, I'm gonna go watch it because I've got nothing better to do anyway!!
PS, Watch out for my next post on

Rekindling Memories: DJ Prom 2005!!

I didn't have a blog back then so what better time then to post it up now? Until then!