My Singapore Trip - Day 1
Gosh, I deserve some sort of award for editing a vast amount of 3, 453, 345, 156 pictures everytime I return from my holidays.
It's mad, I tell you. I took almost
3 hours
to finish editing my trip to
Singapore
pictures.
Oh, well. It's the holiday, eh? I've got time.

WARNING:
I've got roughly
57 pictures
for my whole post on my Singapore trip so erm.. take the necessary precautions.
BEWARE:
Also, there is a massive amount of pictures of
Me and Jean
.
My Trip to Singapore with Mummy Ng, Jean & Jean's Mummy (11th-13th May, 2007)



Day 1



It's a massage chair we're sitting on. Chun lehhh.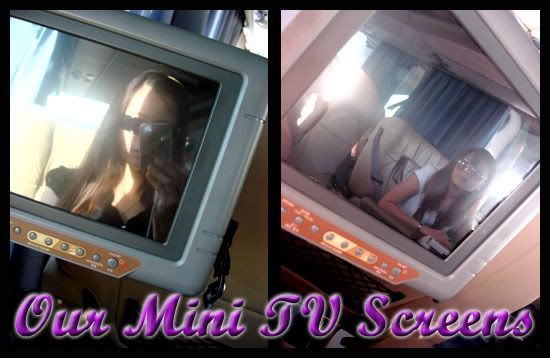 Personal TV Screens with movies, games, music etc!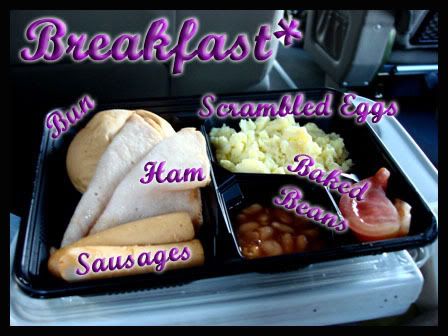 It's exactly like Aeroplane food. That's why I love it ;) I'm weird.
After about
4 hours
of riding in the
first class bus
, we were interrupted from our sleep saying we needed to transfer to another bus because the bus we were in wasn't in tip top condition and they wanted to ensure our comfort.
So, we were downgraded to an
economic class bus
for the remaining
1 hour
. I wasn't sure if it was good or bad. Good; being that they were considerate enough to make sure we didn't have a bumpy remainder
1 hour
and bad; being... well, we got downgraded to a lousier bus in the process.
But after getting
ON that
bus, I knew right away that it was
bad
.
Have you watched the movie
23
? Yeah, the one
Jim Carrey
starred in.
I haven't but I
DO
know it's about how disasters and catastrophes all add up to the number
23
.
Check this out: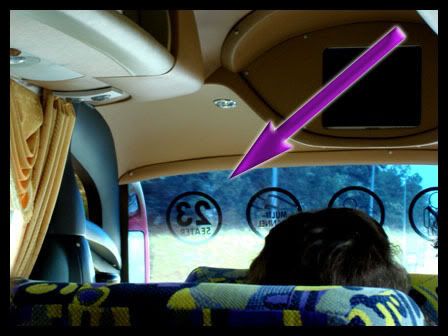 23
seats in the bus.
And what about
THIS
: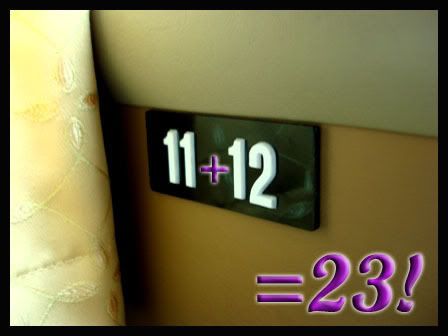 Jean and I sat on chair number 11 and 12! Adding up to...
23
!
Gasp!
Nevermind that the numberplate for our bus was
6666
!
Scary balls.
Not to mention: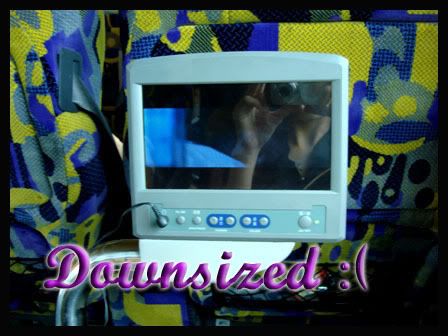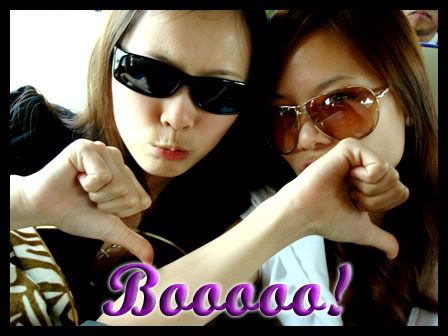 Unsatisfactory.
Nevertheless, we reached our destination (Mummy Ng's friend's friend's sister's place, haha) safe and sound.
The apartment was great! It had 2 spacious rooms, internet, cable TV and most importantly, a fully stocked refrigerator!
So we got comfortable, freshened up and soon enough, we were: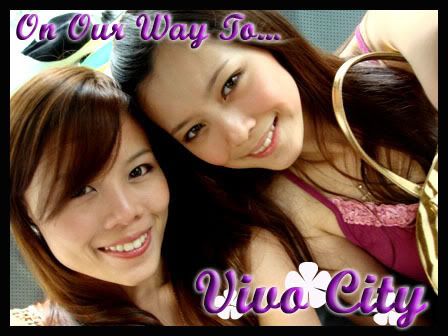 To check out the most-talked about mall in Singapore.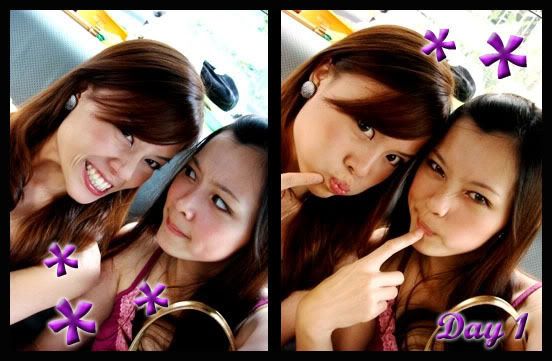 I've warned you.
So, we did some window shopping at
Vivo
and didn't buy anything because everything was too darn expensive. It would've been all right if it were dollar to dollar but because of the exchange rate, the price became a killer.
Later, we had our tea break at: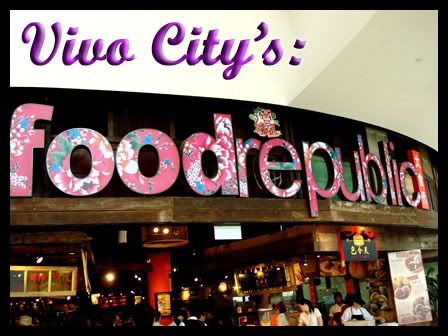 The best food court ever. Cleanest anyway.
Heck it,
Malaysia's
food courts are smelly, dirty and stuffy. Although we've got good food.
However,
Food Republic
has good food
AND
is the total opposite of
Malaysia's
food court environment! Sigh.
Jean and I filled our tummies with: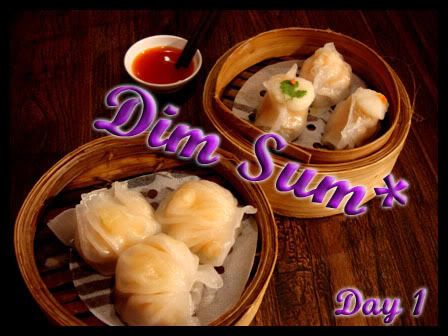 And..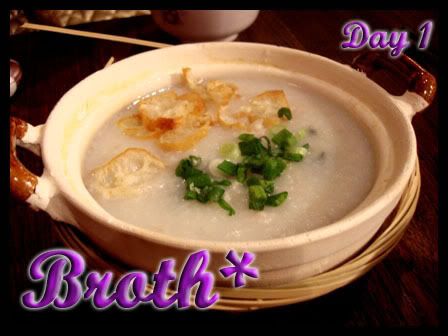 Both were very tasty! Love the porridge. And the dim sum was
HUGE
.
After lunch, we went to walk around the park on the roof of the mall. Very nice place.
And saw this: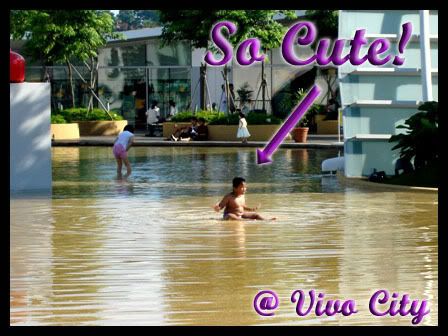 Hahahaha! That boy was really quite adorable.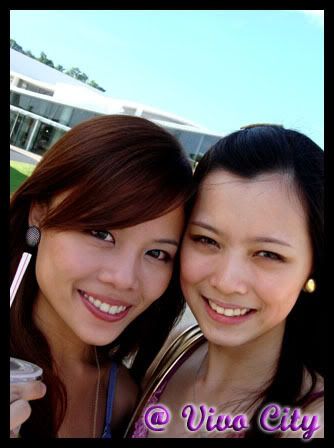 Yes, there is a picture of us wherever new location we are at. Bwahahhaha!
And afterwards, we took an
MRT
(I think that's what it's called) and headed off to
Sentosa
! Where the fake beach is.
A picture from the Skyride Jean and I were sitting on.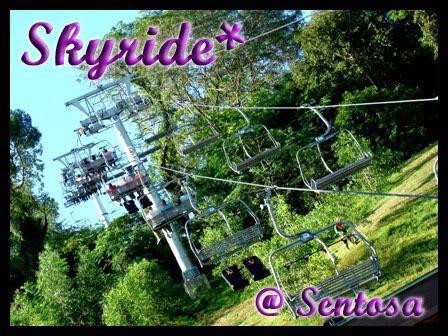 This is the Skyride.
And here's a vid of us on the Skyride!
Hahahahahah! Yes, bimbo, we know. I just
HAD
to use an ultra bimbo song to go with our bimbo talk. Not bad movie-making skills, eh?
So we went up, up, up and reached the top.
Then we took a
LUGE
ride dowwwwnnnnnn!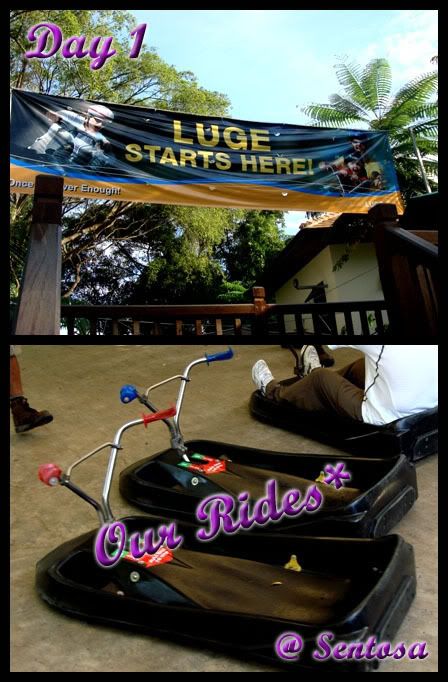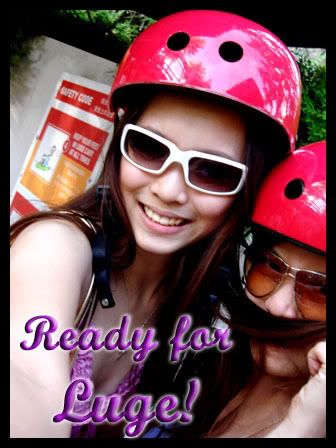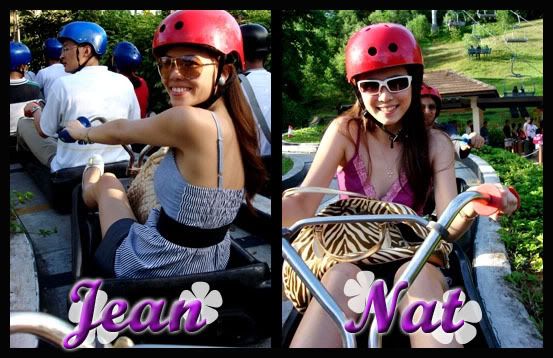 It was super duper fun! You'll absolutely love it.
After our Skyride and Luge, we made a short visit to: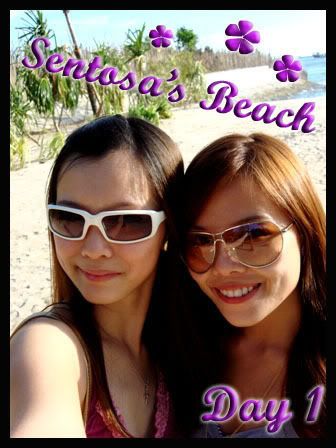 It may be fake, but it's heck a lot better than a whole lot of Malaysia's beaches for sure!
And you gotta know, there are ships and mining machinery and etc etc very close to the shore.
THAT'S
how darn clean Singaporeans are. Almost zero oil spills. And
DEFINITELY
zero literring.
Alrighty, after Sentosa, we went home. Took a shower and had to rush madly to

the Phantom of the Opera

play.
The play was held at the
Esplanade Theatre
.
The theatre looks like two durians from the outside. Super cool. Hahahha.
Oh, and actually, we kena scolding when we took that picture above (no picture/video taking allowed in the theatre). The usherer even asked me to delete it.
Yeah, right.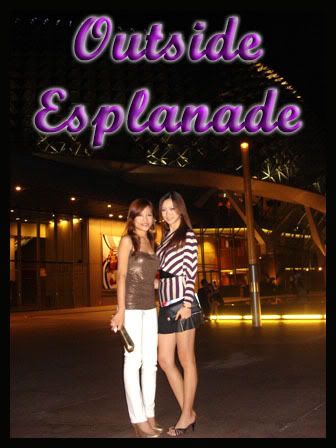 Can see half of the durian behind?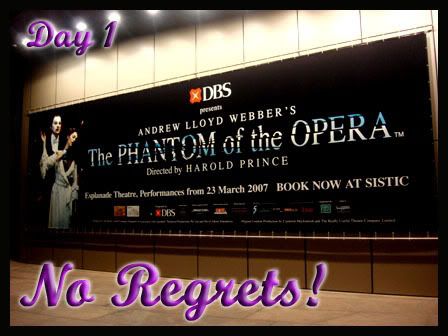 Indeed. It's freaking awesome. The settings were great. The singers were crazy good. And everything was just, super nice! But mind, if you aren't clear with the storyline (following closely to the movie), you'd be pretty blur.
However, if you've learnt Phantom in your highschool literature and have watched the movie before, you'll confirm enjoy it. Very good stuff.
After the play, we finally got to eat our extremely late dinner.
Boy, were we hungry!
And the nearest restaurant around was
Thai Express
. Never ate there in Malaysia before but the branch here is pretty good!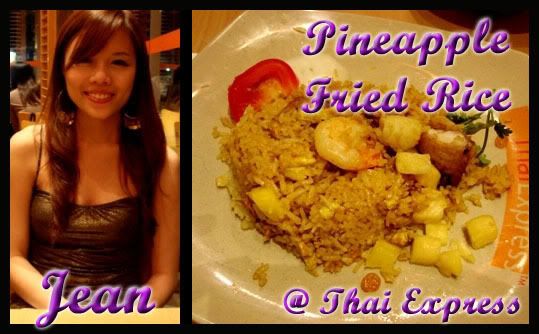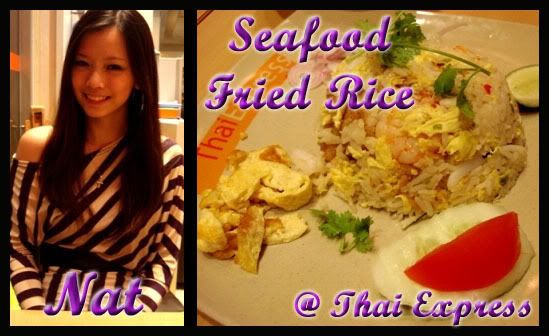 Not bad, their fried rice.
And having a super maid that can cook awesome fried rice, a "not-bad" is really quite good.
With dinner in our tummies, it's off to: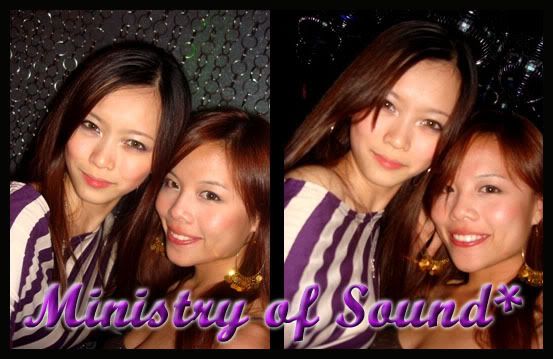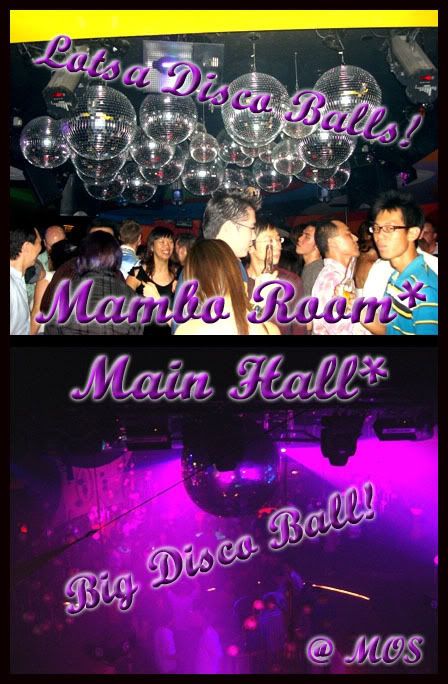 The
R&B room
was filled with far too many kids (I might just be offending myself since I'm only a year past the age limit) but I really do prefer the older crowd. More civilized. Less... sweaty and crowded.
So after checking out the many rooms in
MOS
, we decided to camp in the
Mambo room
.
Love the disco balls! Soooo many. So nice to look at.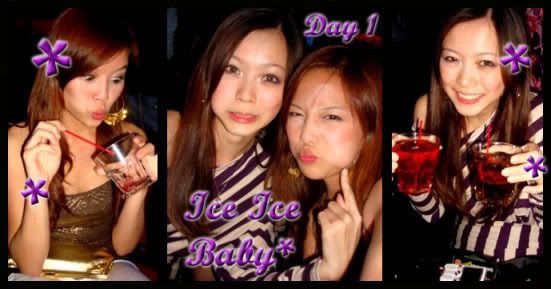 We were sitting quite comfortably, camwhoring, having our drinks, checking out this dude who looked a whole lot like
Foong Yen
... when suddenly, some dude with an
Aussie
accent came up (he looked very much like an
Indian
to me though) to us and started with his pick up lines.
Here's roughly how it went:
Aussie accent dude says,
"Heyy, my friend, here (and he puts his arm around...
THE FOONG YEN LOOK-A-LIKE
! What are the odds?) wants to get to know you pretty girls! But he's too shy to come up to you girls. So, tell me, what are two beautiful girls doing sitting quietly and not dancing? Come dance with!"
We both just smiled and laughed quite forcefully. Layan him abit.
"Awww, come on. So where you girls from? Singaporeans?"
Jeezer. That's the
6, 342
person who asked if we were Singaporeans. What's the deal?
So I said,
"If you can guess where we're from.. we'll dance with you."
Aussie dude laughs and Foong Yen look-a-like joins him. Aussie dude says,
"Okay, okay. I know. You (
he points at me
) are from
Paris
and you
(points at Jean
), you're from
London
. Am I right?"
Lame, lame, lame.
We both gave a very forced laugh.
"Errr, oooookay,"
says Jean.
Aussie guy continues,
"Wait, wait! I
BET
I can guess your professions."
We sure didn't ask you to. But sure, go ahead.
And Aussie dude goes on quite excitedly without waiting for our response,
"You (
points at me
) do catwalk (
hmmm, not bad
) and you (
to jean now
) do swimsuit modeling! Am I right or what?"
"Hahahaha....."
We both look at each other getting tired of forcing our laughter. But we
WERE
semi-amused at his trying-very-hard pick up lines.
I think he got the hint by now and said he'd "see us around" and went off.
LOL
. Well, at least he ain't an
Ah Beng
. His English was articulate enough.
I mean, we all know Malaysian guys who are decent won't come up to us and that the only ones that will would most probably say:
"Hi, you veli pleety ar. Can I safe your numba?"
ANYWAY!
So we wrapped up our night with a quick stroll around
Clark Quey
(I think that's how you spell it) and took a cab back to our apartment.
Yes and it was
2am
. That's how safe
Singapore
is.
We'd probably be robbed, stabbed, raped and killed if we did that in
Malaysia
.
So that about wraps up our
1st day in Singapore
!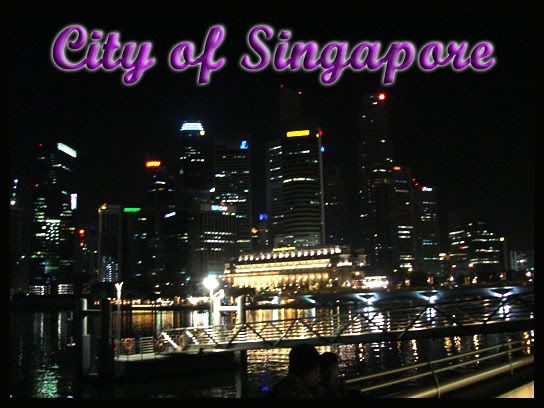 Okay, I can't go on no more. Far too sleepy. I'll blog up my
2nd
and
3rd day
in Singapore tomorrow!
Toodles!
Labels: My Singapore Trip