Movie Review & My Boyfriend is Gay!
I was soooooooooo excited to watch this movie. The minute I saw the trailer and saw that
Will Ferrell
was starring, I knew at once it'd be an absolutely hilarious show. I love what he did in
Talladega Nights
! That comedy was freaking awesome and funny and I do
HOPE
you guys have already watched it! Or would probably be more keen on watching it once you'd caught
THIS
movie (Blades, I mean).
Blades of Glory
is about how two rival ice skating champs got banned from competing in any ice skating competitions for life in the men's singles' division. So what happens is, they decided to team up to compete together in the pairs' division knowing that they'd totally rock the competition seeing as they were both top ice skaters. Well, every movie has it's big bad wolf. In this case, it happens to be a brother and sister ice skating champ pair. And well, they are
NOT
too thrilled with the pairing of the two leading men.
And the rest is for YOU to find out! Watch, watch, watch! It is really funny! If you're feeling awful or lonely or sad or angry or depressed or infuriated or moody or lethargic or grumpy (Brian,
COUGH
, Brian) or etc etc etc...
CATCH IT
and you'll feel muchos muchos better!
Ratings:
Brilliant! A Must-See!
Exceed Expectations. Two Thums Up!
Satisfactory. Enjoyable.
Mediocre. Very Average.
Bored to Tears. Almost Slept.
Fuctionally Retarded. Left Cinema.
On the same note (how people find gay movies so extremely funny), just a couple of nights ago, I did something possibly regretful to my dear boyfriend,
Andrew
.
Well, we were chilling at my place, waiting for the
Manchester-Chelsea
match to start. At first, we were just talking and laughing and being nonsensical and quite suddenly, we were interrupted with a phone call. So I scrambled into my handbag for my celly and accidently dropped my lipstick. Picked up my celly and it was Jeanpants asking where we were, wanna meet up etc etc...
After the short chat, I picked up my lippy and... a
*LIGHTBULB*
(lighted up on top of my head).
I looked at Andrew and asked sweetly,
"Dreww? Can I try this on you?"
Andrew looked at me questioningly.
"Try what?"
I held up the lipstick.
"This."
"NOOO! Don't be crazy!"
I pouted and said,
"Can laaarrrr? Just try onlyyyy. Can take off REALLY easily! I've got make-up remover upstairs!"
Andrew looked hesitant.
"Just a lil' only ar."
I was SHOCKED! Ooooooh, he didn't mind.
HEH-HEH!
So I put my lippy on his lips and asked him to pucker 'em.
I laughed and laughed at the finish.
"Sweetie, you look so preeeeettty! Can I take a picture?"
Andrew looked into the mirror and said,
"Okay, but fast! I wanna take it off edi."
So I got to my bag and while grabbing my cam, saw my blusher lying inside... and I smiled to myself.
"Drew?"
"Hmmmm?"
Still checking himself out in the mirror.
"Can I put some blusher on you?"
"NOOOOO!"
Andrew looked quite horrified.
"Pleeease, pleaseeee? Just a bit only,"
I smiled at him with wide innocent eyes.
Andrew sighed.
"Fine.
A BIT ONLY AR!
"
I smiled in triumph and quickly put on some blusher.
"Awww, you look really pretty! Okay, lets take a picture!"
I picked up my cam and snapped a shot of him.
"Okayyy, how to take this off...."
Andrew was saying, but I was busy staring at my glitter eyeshadow. I quickly picked it up and looked at Andrew with the biggest smile I could muster.
"You're not serious...."
Andrew looked at me with his eyes wide open.
Yes, I was! So I slapped on the eyeshadow and looked at the finish effect and was not quite satisfied even after taking a few snapshots of him.
"Drew, since you're all pimped up, can I just grab an eyeliner and an eye-browliner upstairs? I promise you can take this all off!"
Andrew looks at me in disbelief but amazingly...
NO ARGUMENTS
! He only muttered grudgingly,
"Faster..."
I ran like how I ran during my highschool years of 100m sprint and grab what I needed to grab and ran back down.
Carefully, I drew over his eyes with my
Maybelline
eyeliner (very good eyeliner! Served me well) and drew his eye-brows.
Snap, snap, snap! Took about a billion pictures of him. And mind you, it was not
ME
who asked for that many shots, if you catch my drift.
And here's a little peek (well, the only picture he allowed me to post on my blog) of my
Bapuk-Look-A-Like
boyfriend.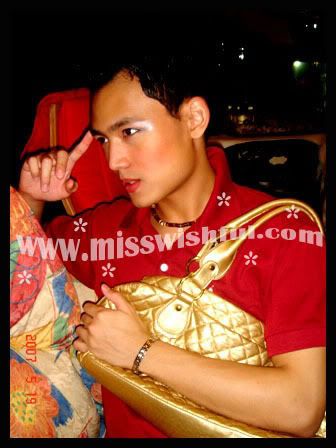 HAHAHAHAHAHAHAHAHA!!!
So pretty, hor?
Oh, don't worry, that's
MY
gold handbag. I assure you he does not own a handbag... I hope.
Well,
I
personally think he looks very pretty. But that's kind of the problem, isn't it? Seeing as he
IS
my boyfriend after all and to have a boyfriend who is more prettier than you is not exactly a happy thought.
Yes, I might be a little envious.
ANYWAY
, I am very lazy to blog up the rest of my Singapore trip right now because my connection is a little crappy and slow. I might do it tonight... or tomorrow. Or tomorrow tomorrow.