-AR
Tuesday, December 16, 2008
Okay, I'd have to say that this post would probably be a mix of the most random things I've been doing for the past few days.
Well, I normally do pretty darn random things in general but when you have a Korean import who-claims-he's-not-a-camwhore-but-really-is-a-big-one with you, your randomization would pretty much be documented.
Picking up the Korean import from the airport: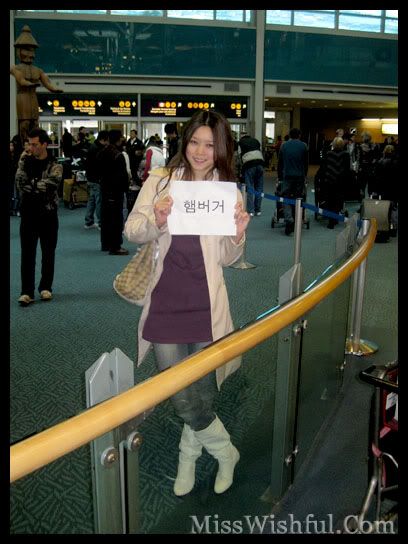 The wonder of Apple. I can write in Korean without even knowing what the characters mean!
Direct translation of 햄버거: HAMBURGER!
-----------------------------------------------------------------------------
Here we have the major camwhoring session with Erik's ridiculously expensive LV bag.
He claims it was all my fault that I got him into buying designer merchandise but really, I merely nudged out the inner material girl in him.
I have to say though.. it's a really decent laptop bag right there.
It isn't exactly the most thrifty thing he could buy but when you step into the casino for 5 minutes and win a ridiculous amount of money AND smartly leave right after
(and not stay like some greedy goofballs who end up leaving with zero or negative winnings)
, I guess you are entitled to spend ridiculously too.
Here we gooo: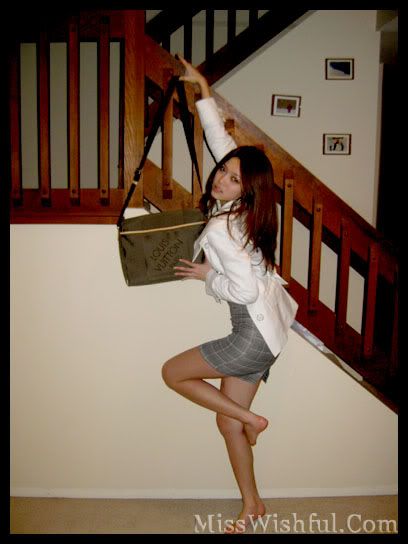 Pardon my enthusiasm. My poses are far from flattering, don't mind me.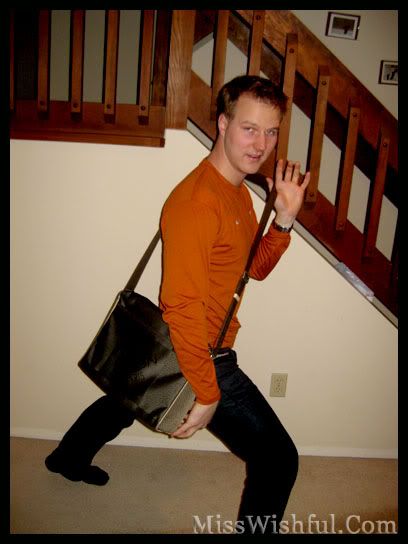 But neither are his, hahahah. I'm so mean.



No idea what I was trying to do here.



Lacoste famous photographic shot! You LV betrayer.



Failed attempt to be a Lacoste model.... It could be the photographer's fault though.
-----------------------------------------------------------------------------
People in North America get pretty excited about decorating their house during the festive season.
During Halloween, I saw some pretty crazy stuff going on.
Moving figures, flying ghouls, massive amount of pumpkins, witches, spiders and all that crazy scary stuff.
As Christmas draws closer, people swap their witches and ghosts for reindeers and christmas lights.
And it's quite a treat to witness these spectacular decor!
The one who I personally think deserve the award for going completely all-out in christmas decor isssss:

Santa's Home. It's sooo pretty... you can't see it but the lights are all twinkling and figures were moving! It's like a mini christmas carnival right there.

-----------------------------------------------------------------------------
Just the other day, on the 13th, it snowed again!
Right after work, Erik came by and we started playing around in the snow outside Hapa.
It was really fun!
I know Canadians are probably sick of the snow and think about safety issues regarding driving and the annoying coat of ice that covers the car and possibly spoils many things, I simply bask in the glory on the falling flakes ;)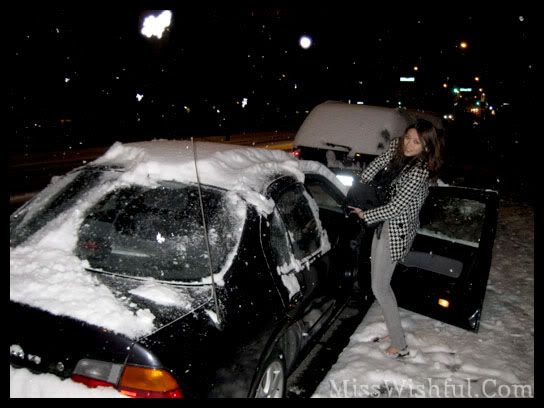 Grabbing my gloves so we can start a proper snowball fight!



As you can see, I wasn't wearing the most suitable shoes. Well, I didn't very well know that it was going to snow when I headed out for work!



Erika.
The Malaysian in Winter Wonderland:
I was pretty excited so don't mind my lousy reporting skills.
And Ju requested a video of the snow fall because she, as I do, loves snow!
When you're living in a country with hardly a drop in temperature of 30 degrees celcius, you tend to get a little excited with snow.
Gotta say, Erik was a real sport in putting up with a jakun.
-----------------------------------------------------------------------------
The following pictures were of 3 stooges who were either very drunk or just... plain silly.
Erik included these pictures in when he sent me the rest of the pictures so either he accidently put it in or "accidently" put it in.
Either way, it's going up!
Stooges with Beer Goggles:
(according to them, looking through them makes women a whole lot better looking)
Stooge #1: Erik.



Stooge #2: Ian.



Stooge #3: Andrew.
LOL
.
They are hilarious.
And just a couple of days ago, the boys
(beer goggle boys)
and a couple more of their crew, Reon and Brian, came over to Hapa to have dinner.
This is what they left for me: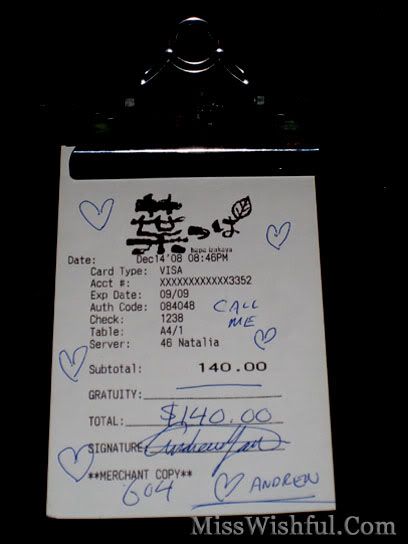 Hahahahah!!



And that's Ian's hotline right there.
There you have it!
A bunch of random events in one post!
Probably won't be the last bunch. Been doing quite a bit of crazy stuff lately.
Hopefully can squeeze in some snowboarding before having christmas celebrations and my Mexico trip ;)
The north star.
Until next time!