New Year's Celebration - Part II
Tuesday, January 15, 2008
By gosh!!
I'm abandoning my poor blog. So outdated it's not even funny.
Not like anyone said it was actually but whatever!
Will try my best to bombard my blog with non-stop posts after this!
New Year's Celebration - The After Party @ Traders Hotel, KL (1st January, 2008)
The following events are what happened after the countdown and watching the awesome fireworks.
At first, all was well.
Everyone was good and sober!
(This unfortunately- or to some, fortunately- did not stay for long)
The boys were watching

X-Men

on one of the

TWO

Samsung LCD TV's we had whilst Jean & Son played DJ on my Mac.
Our DJ's for the night!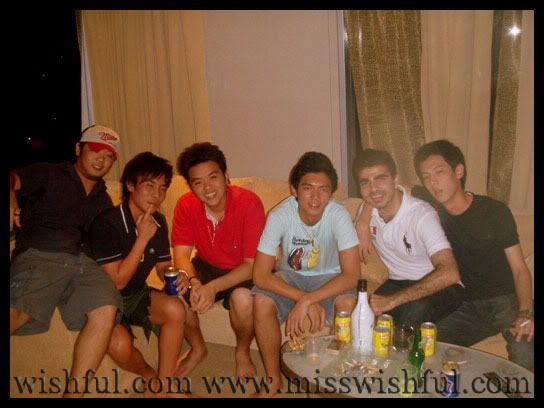 Still doing all right! L-R: Peter, Shan, Sheng, Marc, Shahmir & Yen.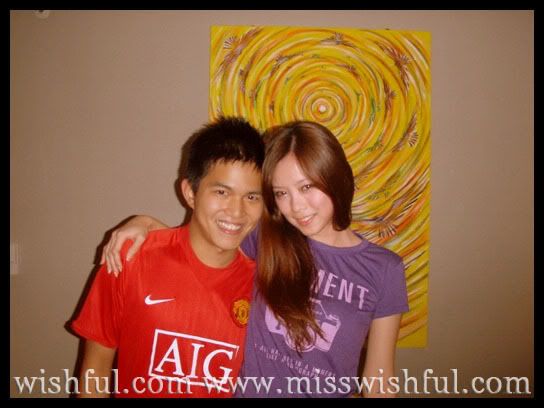 Asian Ashton Kutcher & Me.
Tell me what's wrong with this picture:
No points for guessing who the chick's supposed to be!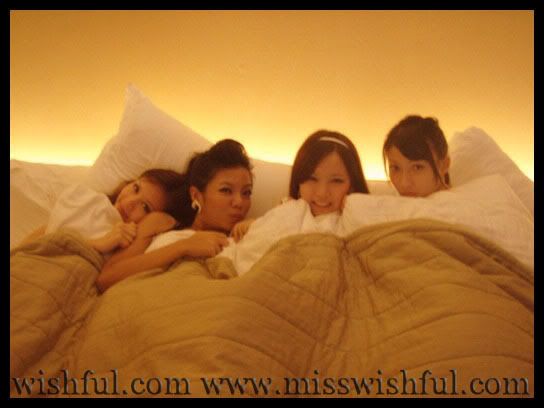 We're nakey in the bed. Yummmay.
And in goes the alcohol!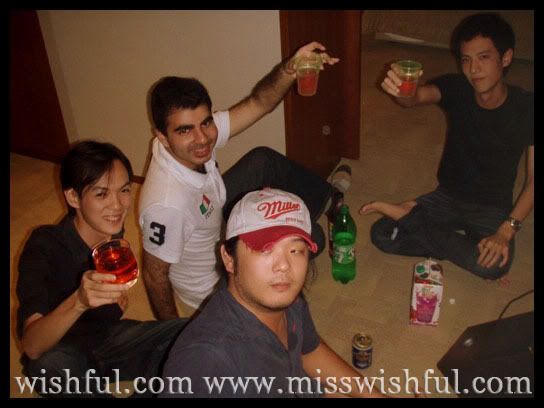 Cheers!



Son made Shan down the

WHOLE

bottle at one go. You go, boy! Bet you he produced a lot of unwanted gas during the process.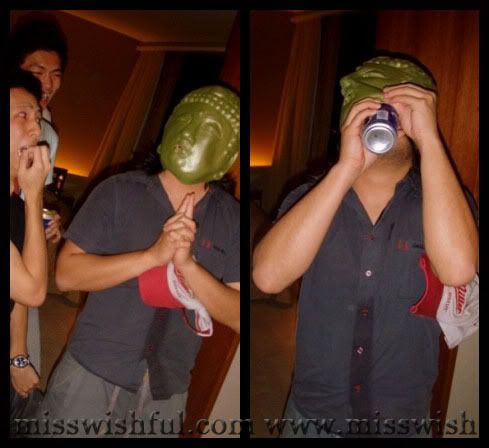 Heck, even Buddha drank!
And the crowd goes WILDDDD!!!
Check out Yen's sassy arse! Pity the picture's so blur.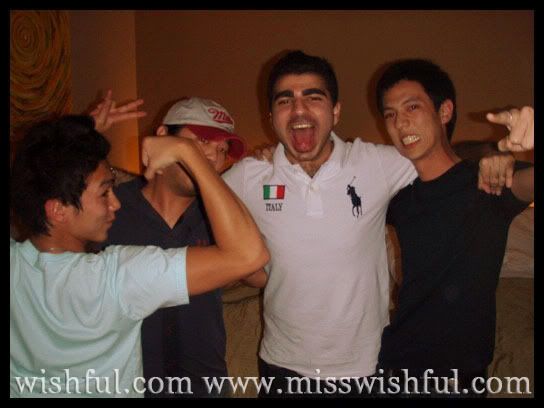 When you're happy and you know it means you're drunk!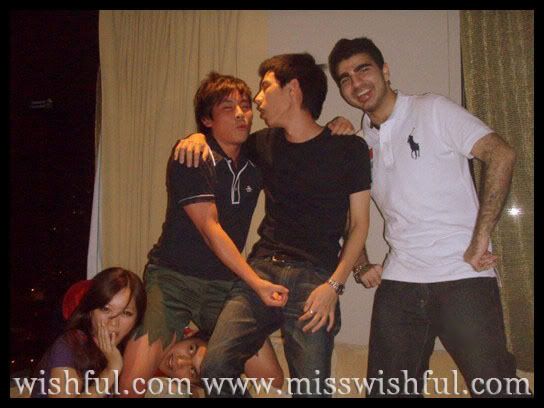 ???
?????!!!!!
Sonia's drunk pose. Very effective when eyes look dead red and you look perverted and slightly psychotic.
Drunky drunk & Me. I was still doing all right.
Jeanie Weanie Papoochinieeeeee. Okay, I ain't drunk right now but looking at these pictures sure make me feel a tad bit tipsy, haha!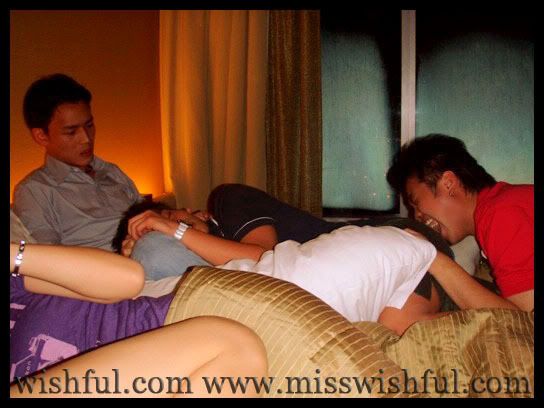 No idea what in heaven's name is going on. For gosh sakes, they've completely lost all self-control!



Andrew was screaming at the top of his lungs, "

WEIH, DEM PAIN, DEM PAIN!!!

" But not a whisper of asking Sheng to put him down....

0.o
The gaysters.
As of now, we start the camwhoring session in the powder room!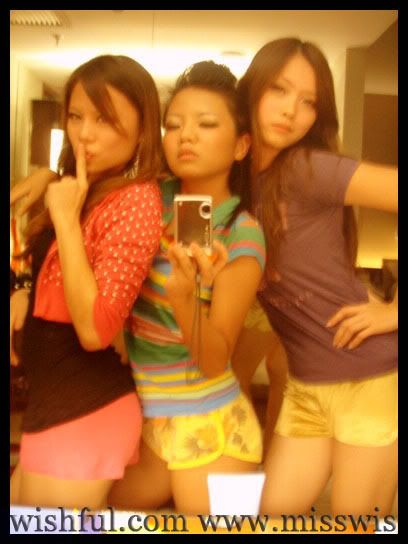 3 of us! Should be 4 though. At this point, we

REALLY

missed Ju's presence.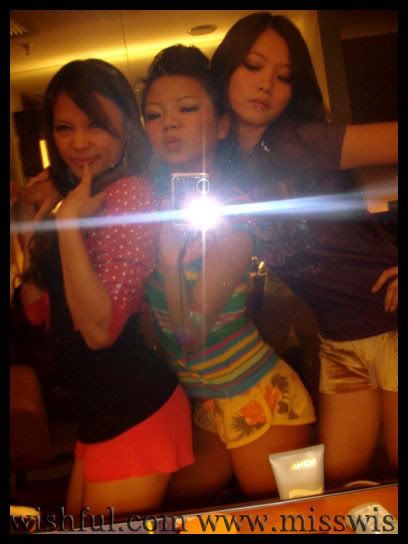 More of us! Haha. But with flash. Thought this pic was cool.
Me & Jean found more robes in the wardrobe closet! Heh.
Shan & Shu Yee joins the fun!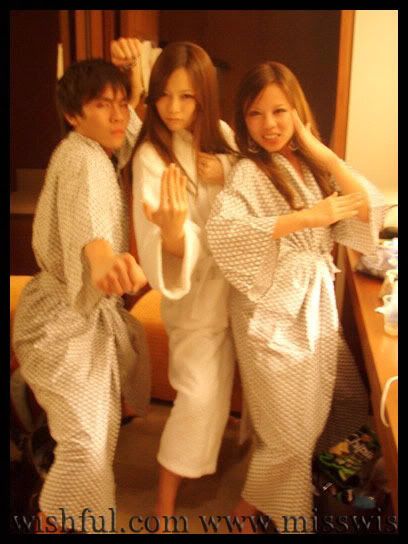 Wannabe Samurais. Doesn't work so well with me seeing I'm in a white, fluffy bathrobe but...

WHO CARES!
Samurai Jean & Samurai Shan.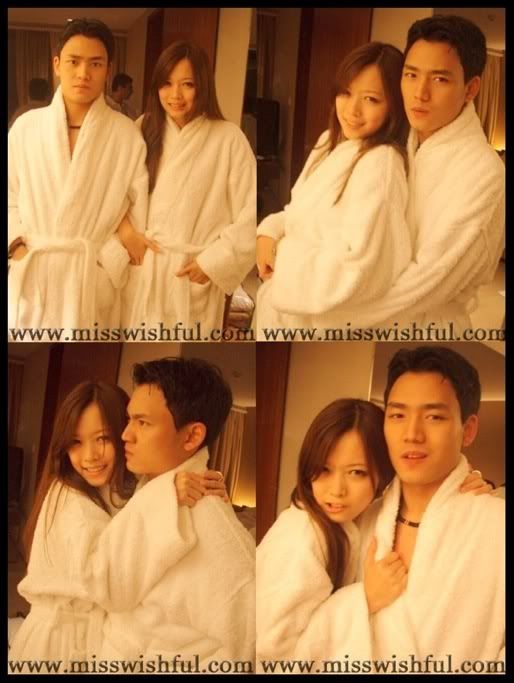 Bathrobe Drew & Bathrobe Nat.



Sesat Gang.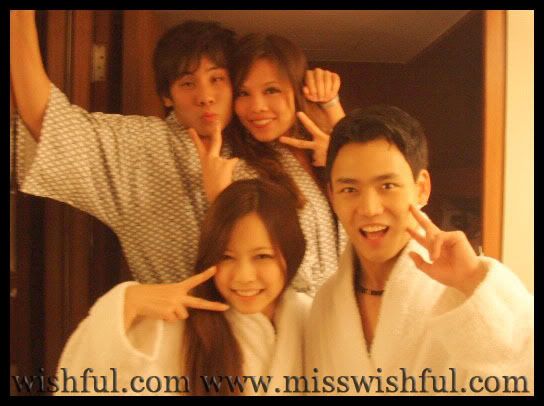 Seafood Gang.
And while most of us were sober-ing up and getting a lil' drowsy, Marc & Drew still had energy to play boxing on the Wii.
Boxer Marc.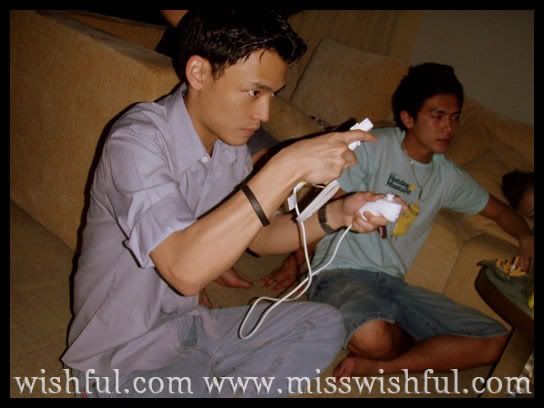 Boxer Drew.
And soon, it was snoozing time!
Bet you're curious how we managed to fit
14 humans
in a suite which only has
1 king size bed
, eh?
Here's how we made-do: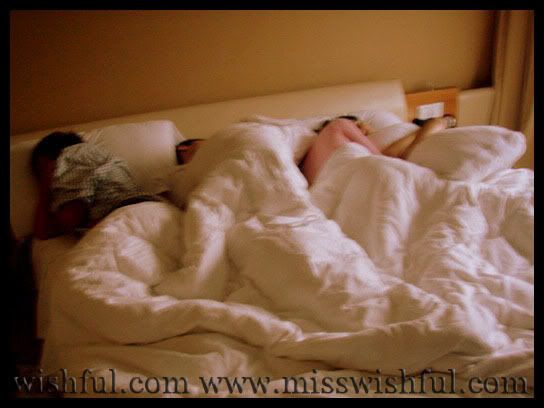 The four lucky ones: Shan, Yen, Shu Yee & Yow Kiat.

Weng Soon sleeps on one side.
Me and Andrew got the other side. We tried to make it as cozy as possible... but it's hard when you're sleeping on the

GROUND

.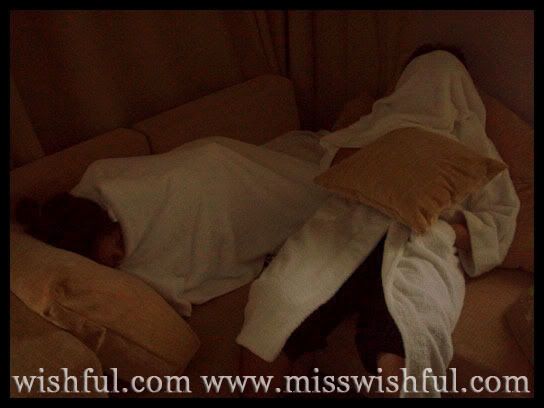 Jean & Sheng on one side of the couch.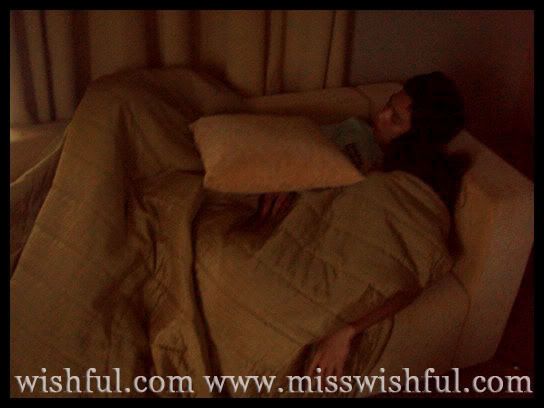 Marc & Son on the other.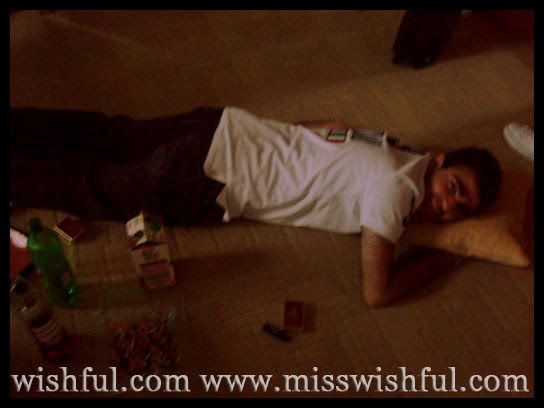 Shahmir looking good over there. And very awake too.

And the one who got to sleep in the very livable loo:
Our very own Ashton Kutcher!
And that was how I spent my New Year's!
Took 15 days to update it but heck, better late than never!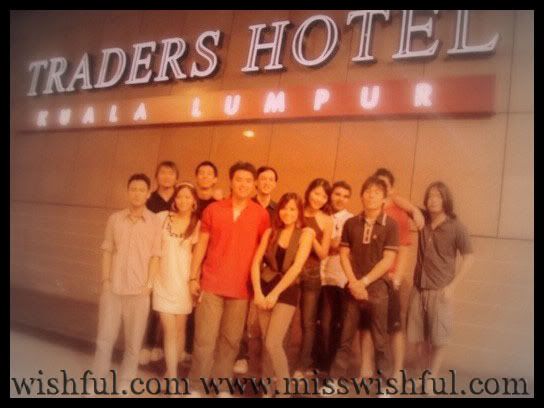 Tourist picture of all of us!
Before I go, you guys have
GOT
to check out this picture I took of the Twin Towers!
Completely unedited: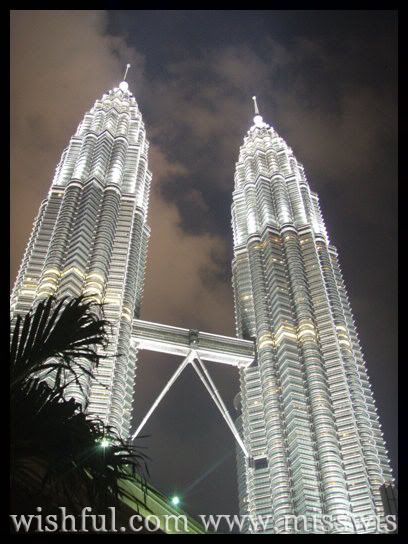 The KLCC Towers.

POWER LEHHHH???!!
I didn't know my cam could take such a power shot. And it's not even
Canon!
Okay, being lame.
Anyway, just wanted to brag about what a good photographer I am. Yes, please judge my skills on just that one shot, heh.
OKAY, BYE!!!
Labels: New Year's 2008