Carat Club, The Pulse & Velvet
Saturday, December 29, 2007
OMG.
I am so slow at my updates, it's not even funny.
In my defense, it's the holiday season and there's just
WAY
too much going on!!
Barely have any time to blog!
I'll do my best. Gosh, and I haven't even started on
ONE
Christmas update and I went to a billion Christmas parties already!!
Anyway, anyway...
A week ago, told a little white lie to get out of my curfew ;)
Yes, bit naughty of me but I wanted to make full use of my holidays so told
Papa Ng
I'd be spending the night at Jean's which was half true! We did spend most of the night at clubs but I did end up sleeping there and that's what counts!
3 of us

(Boooo, Ju in Shanghai)
@ Carat Club, The Pulse & Velvet (22nd December, 2007)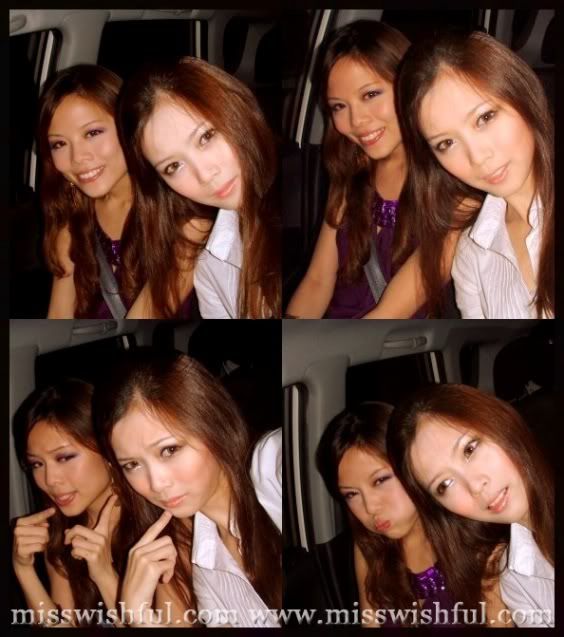 Jean picked us up! While waiting for the slowbie (

Sonzy)

to get ready, we took a few camho shots.
First destination: Carat Club.
View of the Pavilion sign from the balcony of C-Club.
Met Joh & Allan whom were having drinks there.
Gosh, that place is
NICE!!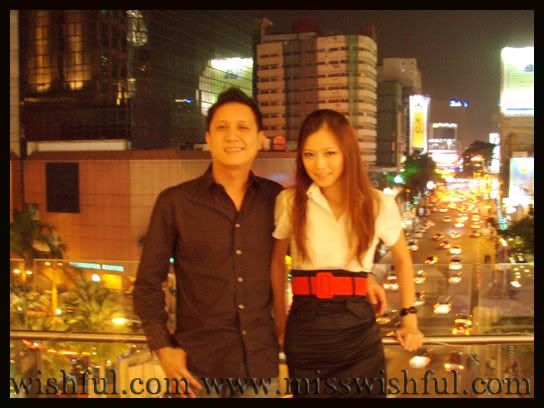 Allan & Me.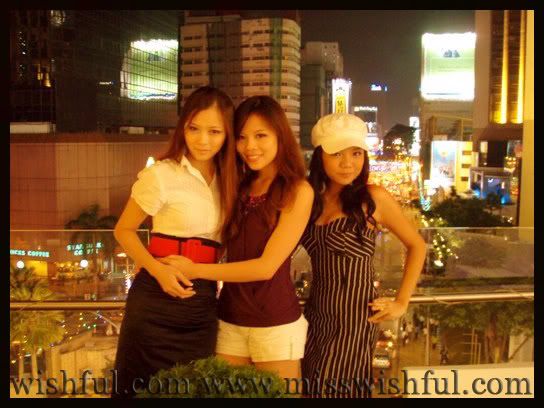 3 of us. We missss youuuu, Juuuuuuu!!! Hope you are having oodles of fun in Shanghaaaaaai!!

And heck, the toilets sure are cool!! Mirrors
EVERYWHERE.
Bit scary because you might get all confused with your reflection and start bumping around.
But very fun to camho!
Cool stuff, huh?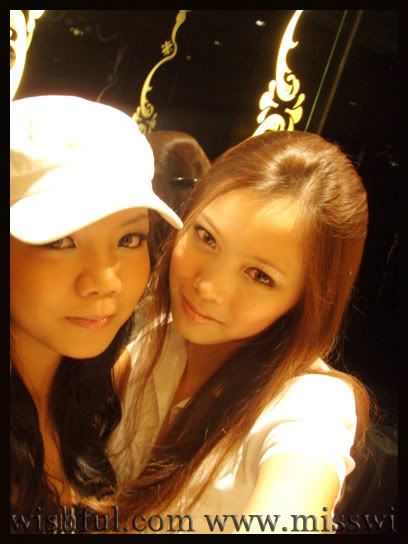 Partyqueen & Misswishful!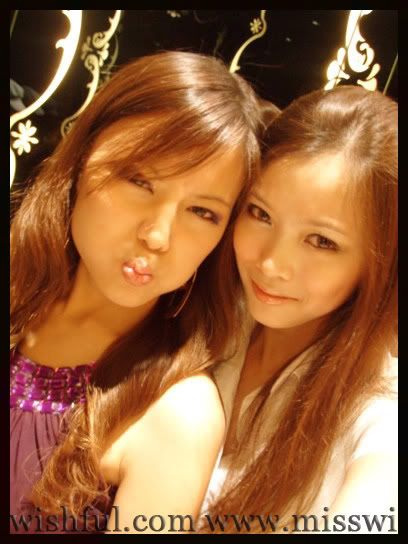 Le Twins!
Next destination: The Pulse.
The Pulse is at the
Grand Millennium Hotel
. We went there for the opening of the club.
Place is not bad. Nothing to shout about though. There was a live band which was not half bad.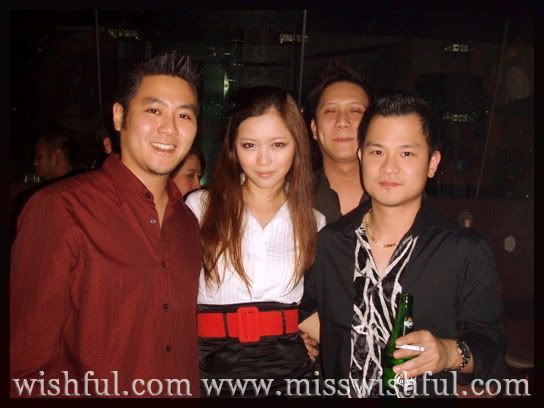 L-R: Yu Meng, Me, Allan & Joh.
Jean & Allan.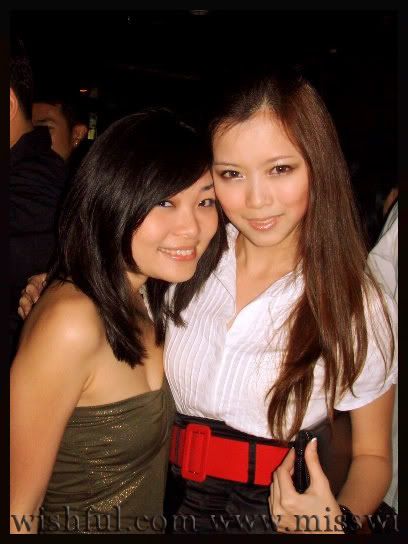 Debbie & Me.



Raph, Me & Joh.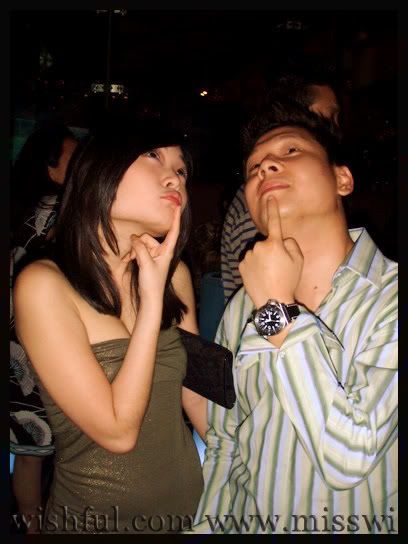 Debs & Raph.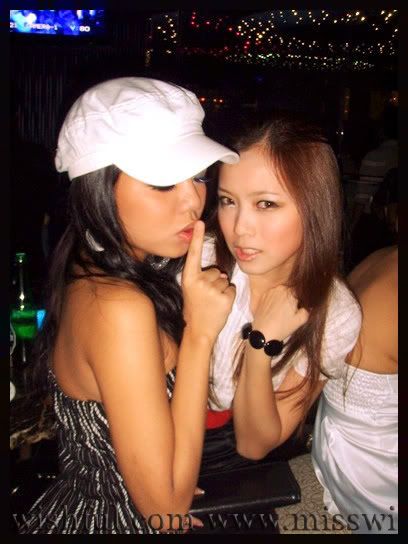 Sonzy & Moi.



Jeanpants & Me.

And yet again, we were asked for the
5, 635, 842
time whether we were sisters!
It's scary how we share the same surname and all too!
Joh & Me.
Dumby & Fatty. He calls me Fatty all the time so I call him back Dumby. If I'm fat, then he's dumb!
At about midnight, we left for...
Our final destination: Velvet.
That's where the party started. I actually drank that night and hence, took barely any shots, haha!
Couldn't care less to take pictures when you're having that much fun!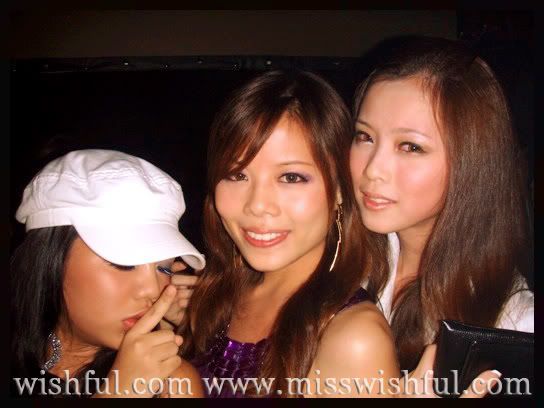 Son was right to pose closing her eyes! Check out my CMI face... Now you all know why I don't drink often! I scare people.
Andy & CMI.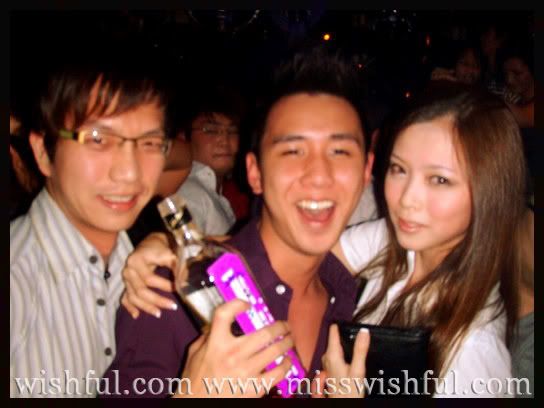 Don't really know who, Vooi Loon & CMI.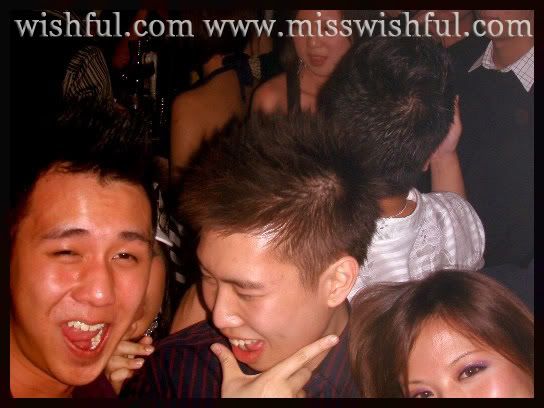 Sorry, only got bit of Jean's face. My aiming also CMI. Sheessh.
Bumped into everyone at Velvet. That place has far too many familiar faces. If you want to be noticed or want to notice people, just go to Velvet.
Alrighty then, that's all for tonight!