Dance Performance for F1 Carnival
Two weeks of practice, from
Monday to Thursday
, every evening from
7pm-9pm
and we got our performance down! It was a lot of fun and the girls and I (
Jean & Ju
) got to meet a whole lot of people.
The dance club consists of students in
Sunway
which includes
Monash University
,
Victoria University, ACCA, ADTP, CIMP
etc. There's a lot more but I can't quite recall who's in which. But it's a total mix, that's for sure!
Dance Performance for F1 Carnival @ JW Marriott, KL (7th April, 2007)
Ju and I stayed over at Jean's house (a.k.a mansion) the night before. We woke up at
7am
and
Sheng
picked us up and got us to Sunway where we met up with the rest. Then,
Aaron
brought his Innova and fetched us from Sunway to KL. Where was
Drew?
Sleeping like a pig. Uh-huh. Yep.
So, when Sheng picked us up, we had a nice little surprise waiting for us!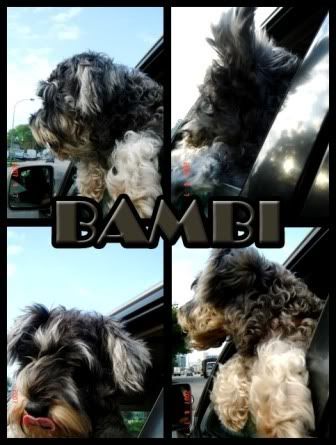 She loves, loves, loves poking her head out the car window! Soooo cuuuute!
On the way to
JW Marriott
, I passed by the
Petronas Twin Towers
. I always make it a point to capture a picture of the only
thing
our country can be proud of.
Note: I bolded "thing" because it's no inclusive of people. There are some people Malaysia can be proud of after all.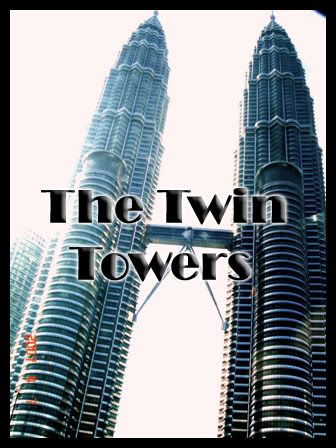 Not bad for a wannabe photographer holding a 5.1 Sony, eh?
And we're here! Then, it's off to: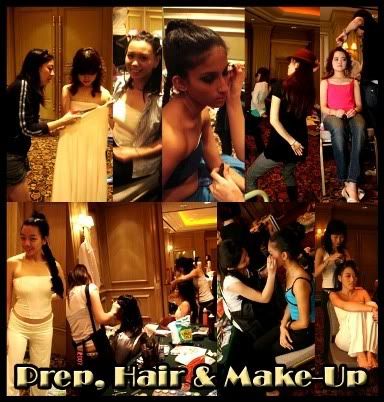 After our make-up, Ju, Jean and I had an uncanny resemblance of: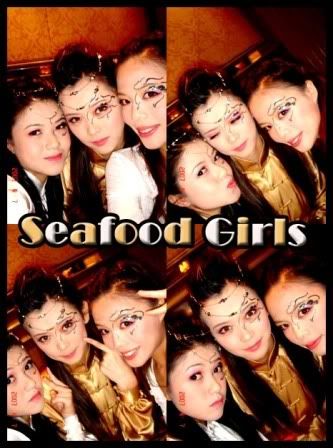 We look so cina because Ju and I were doing a
Chinese Sword Dance
and Jean was my partner for
Cabaret
so she was forced to have similar cina make up to match mine. The horror!
Note: The hairdo and make-up sponsors for this event...

CAN EAT DUNG!

I will complain after these messages.
When we went to try out the stage, we bumped into this!: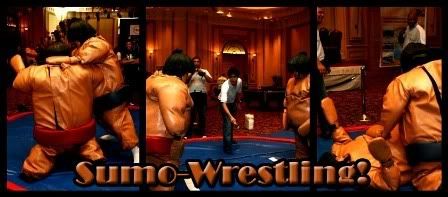 Hahahahaha! The break dancers were in those outfits playing around before the arrival of the guests.

The traditional dancers: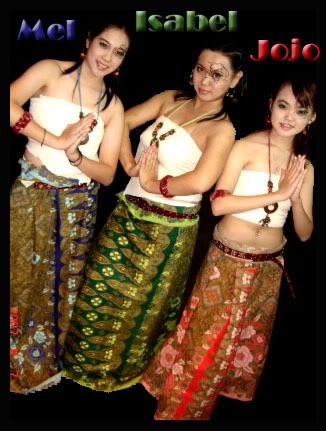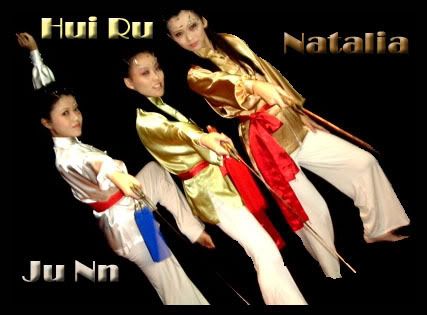 Chinese dancers.
I know, I know. I look like a dork. A very cina dork.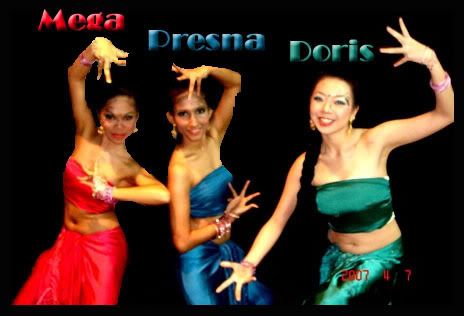 Indian dancers
. I like their outfit! Very attractive.
Don't mind the lousy cropping. I was being lazy after editing so many pictures.

And then we have: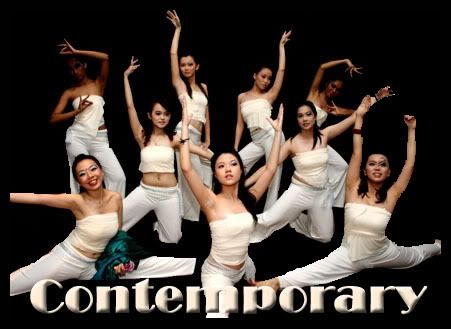 When we all merge, we become artsy fartsy. For those who don't know what sort of dance contemporary is, it's apparently a modern sort of dance. But to me, it's like ballet but a lousier, less skilled sort. Haha. It's pretty cool though.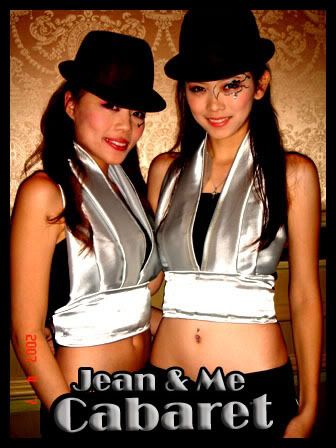 Just so you know, that silver thing we were wearing was made by
Doris
, our head. She's mad, I tell you. She only just did it the night before, and only just fitted us in
45 minutes
before our Cabaret performance. If you squint real hard, you
MIGHT
just see the ga-zillion safety pins used for keeping our top together. Not bad, huh?
Here's the sequence of our performance (using videos and pictures for illustration):
First, we open our dance with the
Malay Dance
:
And next, we have the
Chinese Sword Dance
:

The video for this wasn't captured very well so pictures it is!

Right after, we have the
Indian Dance
:
I love the Indian Dance! I think it's neat. Man, I sound like a nerd.

Immediately after all the traditional dances, everyone stripped, did a short and fast version of their own traditional dances and to some flag dance (which was messy as ever and very unnecessary, if you ask me) and then it's off to the
Contemporary Dance
: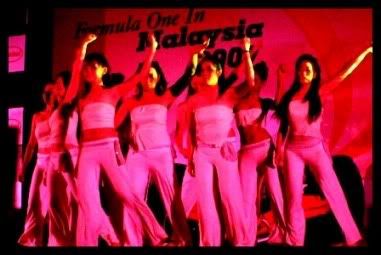 It was
REALLY
messed up. A lot of people didn't know what they were doing. This was the best picture they got of us. Imagine that. Tsk. Maluuuuu.
Interval.

Now, it's the
Cabaret Couple Dance
, starring
Ju and John
:

It was fab but Ju didn't allow me to post up the video. Plus, the person who I asked to take down the vid from my cam didn't get the whole thing. Only half way. Phooey. I liked this dance alot.

After that, we have the
duet Cabaret
!: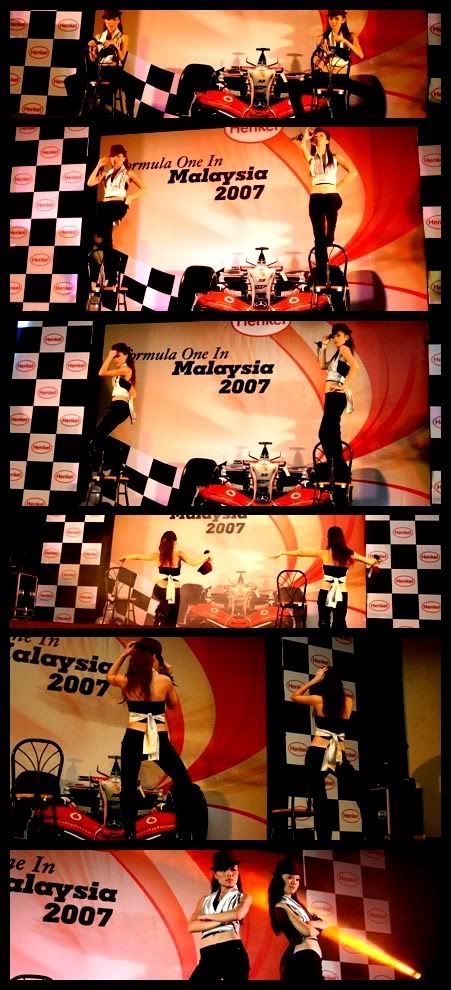 People are
SO
lousy in taking videos. Honestly, they don't know how to zoom in. Jean and I looked like ants in the video I have. Heck, even in most of the pics we looked like ants. At least in the almost end, the photographer got smart and came nearer to take the pics.
Holding those big, black, canggih camera and don't know how to take chun pics. Sheesh-ka-bob. This is where I would've appreciated if
Zyl
was here to take our pics.
And hopefully, soon,
Brian
. Hehehe.
Interval again.

And the finale of our whole performance, the
Break Dance
by: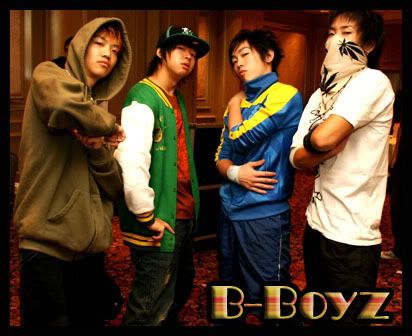 There was more people, of course. And I only
THINK
their named
B-Boyz
. Sorry, didn't do my research properly. I only noticed that name printed on one of their laptops so I assumed that's what their called.
I couldn't get a picture because by the end, my cam battery died and the fella with the big, black, canggih camera didn't take very nice shots of them.
By all means, he managed to take
SOME
okay random shots. But all in all, 80% of the pictures were....
IMPORTANT! THOSE WHO CARE ABOUT THEIR FACE AND HAIR SHOULD READ!
Right, we had an
absolutely horrendous
group of
hairdo and make-up artists
. It was
BAD
with a capital
B
. And capital
A
and
D
for that matter. I was very, very unhappy with the whole process and outcome.
First of all, the make-up that they used on us was brandless and very cheap looking. So, so bad for our skin (and we had to have it on for
5 hours
, you know!). Usually, all the times I did my make-up for photoshoots and bridal shows, the brand to have is
ALWAYS MAC
. Especially for foundation and rouge.
These people slapped on
LIQUID
foundation on our very delicate skin. And a whole lot of it too! When it dried up, our make-up could literally crack if we were to do too much facial expressions. I know we all looked like wrinkly grandmas after a while.
HORRIBLE!
Next, their hairstylist
KILLED MY HAIR
. Nevermind that I had to sit through the whole painful process of puffing my hair up and looking like a
cinabeng
, I've got very fine and thin hair (my hair is super precious to me) and they went and sprayed practically
10 cans
of
CHEAP HAIRSPRAY
that can be bought from
Watson
for
RM15.90
! I know because I bought the same exact one (two years ago) which was the time I discovered I could curl my hair on my own AND there was no other hairspray selling in Watson. Plus, I was being cheap.
Half my hair is gone! I'm so, so depressed on that matter. While I washed my hair, I must've groaned and yelled pretty loud that
Drew
could hear me from outside where my computer was. Thank goodness I had him there to tell me I'd still be pretty without hair and comfort me while I emo-d.
I don't like sounding like a bimbo but
HAIR IS VERY, VERY IMPORTANT.
I hate those hairdo and make-up artists.
LOUSIEST EVER.
If I'm not mistaken, their company is called
Creative Make-Up
. I might stand corrected though. If I do, I apologize to the make-up company who are named that.
But if I am correct,
EVERYONE, BEWARD OF THIS MAKE-UP COMPANY!!!
Do not allow them to do their make-up for you unless you are very desperate or do not care for your face and hair.
Ahem! Alright, that's all for now! G'night, y'all.